We woke about lunchtime. Stephanie was stirring, between Maires and me. She felt me looking at her, and turned to me. Then she looked at Maires, who was still sleeping. She smiled, then widened that to a grin, then chuckled. She was happy to be here.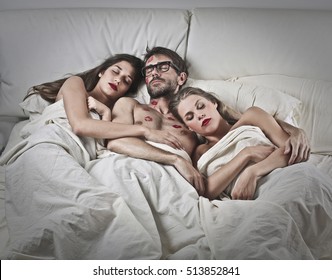 "Good morning." She hesitated. "Sir."
I reached to touch her mouth. "Morning, little love. Welcome."
"That was an amazing night. I've never – I've never done any of that. It ever occurred to me that I would. Will you have me? I mean, often? No, I mean permanently?"
"I was hoping you'd want to stay with us. Live with us. We might have to find a new place."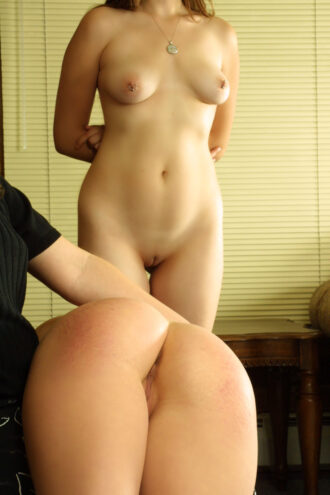 "I can go house-hunting with my Master, and, well, Maires is my mistress sometimes. That could be fun."
"All right. We'll do the steps, give notice here, and we can start our hunt this weekend."
"Shit. I thought you'd want to think about it."
"Stephanie-love, having you in my life with Maires. That took about a nano-second to decide. I expect Maires will do it quicker. The only thing that could be better than last night is lots of nights like last night. Beautiful girl."
She nodded at the compliment, then kissed her fingers and put them to my mouth.
"Maires calls you Master. Should I?"
"Do you want to?"
"I was shocked the first time I heard Maires say it. But yes, it makes sense. I like you telling me what to do. I like you beating me, whether I do as I'm told or not."
"I'm always fair!"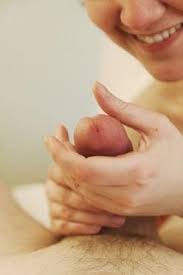 "You cheat a bit. You like my ass. Anyway, now I think I'd be happy. You'd be an accessory, beating, commanding, and fucking me. And kind of sweet. So, yes, I think a Master could be kind of useful. And you seem to be good enough at it. And you enjoy it. So if I must have a Master, it might as well be you." She smiled, crookedly. 
I'd thought I was too fucked out to be turned on. But she was offering me something too wonderful and too hot not to react. My cock, under the sheets, not touching her, was getting hard. I moved closer, so my cock touched her thigh.
She nodded, reached down and stroked me. "I like that you enjoy it."
"'It might as well be me,'" I half-quoted. "You're going to get the cane today. Have you ever had a cock up your ass?"
"No. Tried once. Hurt too much." 
"I am going to cane you. I'm serious about that. For being a bit cheeky just then, and because you should know what it's like. And yeah, I'll also enoy it, and love the marks afterwards, and I'm sure that's part of the decision."
"Does it hurt? No, that's silly. Of course it will. I suppose it's not up to me anyway, is it?"
"Nope. Not your decision. Be ready after dinner tonight. Then I'm going to fuck your stripey ass."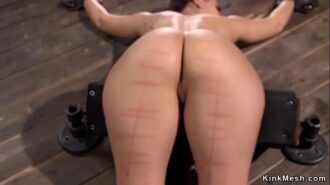 Maires opened her eyes. I knew she'd been awake for some of that conversation, quietly listening. I said, "Good morning, Maires. We seem to be a threesome."
"No," Stephanie said. "We were a threesome last night. The fuck was a threesome. But when we live together, we're a menage."
Maires said, "I like a pedantic girl. But I'm still glad Master's going to cane and buttfuck you. You need to be kept in your place, you do." Stephanie snorted, and Maires kissed her. "Master, if you're not around and she gets up herself, do I have spanking rights?"
Stephanie said, "No! Just Master." 
So I said, "Yes, of course, Maires. She needs constant watching, I think. Just your hand, though. If you want to use an implement, you'll have to ask my permission."
Maires climbed over Stephanie to kiss me. "Morning, Master. You'll always give me permission when I ask, though, won't you?"
Stephanie said "Hey!"
"Hey, 'Mistress', to you, Stephanie. Is that right, Master?"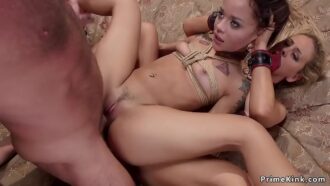 I thought about that. I wasn't sure I wanted a rigid hierarchy. "No. When you're both with me, you just use your names. When I'm not there, then Maires, you're in charge. Stephanie, when it's just the two of you, you obey Maires, you accept discipline from her, and you address her as Mistress. Is that clear?"
Stephanie and Maires said, "Yes Master," more or less in unison. It's easy to be a popular Master when you're doing what the submissives want. Power, in bdsm, is never quite where it seems to be. I've never minded that. Maires reached down, and her hand joined Stephanie's, stroking my cock. 
"Master, you've got duties. Two girls. We need fucking. Old-fashioned. P in V. I do and I'm pretty sure Stephanie does."
Stephanie held my cock tight, then relaxed her grip. "This is true."
I'd hoped I'd get lunch first. I thought I'd probably have to do something gymnastic, so that wherever my cock happened to be I was with both of them. I had no ideas yet. But I said, "OK."