Her name was Monica. I picked her up at the Opera House. There was a performance of Die Zauberflöte, and we noticed each other because we were the worst dressed people there.
She wore a pair of jeans that had been artistically torn and frayed to show off yummy bits of front and rear thigh. I wore a pair of jeans that had frayed at the crotch, because I'd been working in the garden, forgot the time, and had to race out in whatever I was wearing, it I didn't wanted to get shut out.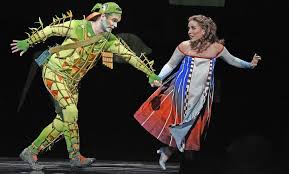 At interval I bought her a glass of champagne, and we talked about the opera for a while. She said it made no sense to her: she couldn't see what it was about, the character Monostatos is a racist caricature, and she didn't give a toss about any of the characters.
Except possibly Papageno, the bird-catcher, and she could see that he was a really obvious piece of "like me!" audience manipulation. 
As a paid-up Mozartean I shouldn't have agreed with her, but I did. I told her that the guy who wrote the words, Schikaneder, had written the Papageno role for himself, so the audience would love him and he'd get all the laughs. She nodded. That figured. I had to warn her that if she wasn't thrilled with the action at half-time, it was going to get worse. The plot turns extremely, annoyingly sexist, and nothing to be done about it. Even the racism gets slightly worse.
So at least Schikaneder gave us something to talk about: how crap he was. We got through two champagnes, and checked each other out. I decided that she had lovely tawny brown skin, probably Southern Italian or Greek, or maybe mid-Eastern, and I'd like to see every inch of that skin. And her mouth was a big sexy bruise, and her eyes were soulful and sad.
I'd certainly take her to bed. I just had to hope that she decided the same. After the show I took her to a restaurant on the Quay, and we talked briefly about how you could keep the Mozart music but lose all the Schikaneder. We worked out a completely different plot, that set new words to the same music. Maybe I'll tell you about that some time. 
Then I asked her what she did.
"I'm a hypnotist." 
"Really? Like telling people to stop smoking, or picking their fingernails and such?"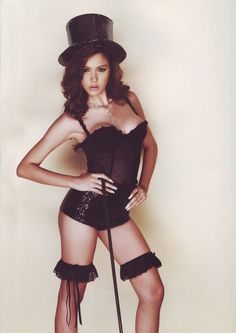 "Well, audiences might be bored by that. I'm a stage hypnotist. I do my thing in a … well, it's kind of halfway between a leotard and a corset, plus fishnets and heels."
I said, "Ah-huh!" In case she didn't know I'd like to see that.
"And I make guys think they're swimming, or they're little lambs skipping in the fields."
"Really? I've seen that on TV. I've always found it unlikely that anyone could think they were a lamb. But they do the skipping. Do you think they believe it, or are they just playing along?" 
She frowned. "You know, I honestly don't know. I think the hypnosis, when it works, makes them very suggestible. So it's not so much that they think they're lambs. It's more that they think they should act as if they do. That's where the suggestion works. And of course they're having fun."
"So it's true what people say, that you can use hypnoses to make people do something they want to do? But not something they don't want?"
"Yeah, pretty much. Like, if I have attractive male and female volunteers, I can tell them they're lovers meeting at the airport. And it gets very steamy. That's not for the matinees, of course."
"Children's shows? I guess not. So … what would I like to do? That I'd only dare do if I was hypnotised?" 
"No. You say. What would you like to do? If you were hypnotised and had no choice?"
"I've been thinking about the top button of your blouse since interval. It's really not necessary."
She looked at me. She said, "You are getting sleepy. Verry zzzzleepy. Now undo the top button of my blouse."
So I did, trying to look blank while I did so. Once the button was free I tugged the blouse back at the shoulders, which wasn't part of the command, and exposed some nice cleavage, held in a black sports bra.
"Yes," I said. "I feel much better now."
She smiled. "So that's my secret power. I can make people do whatever they want."
So I laughed. "I also have a secret power. Similar effect. Want to see?" 
She raised her eyebrows. "OK." She sounded careful.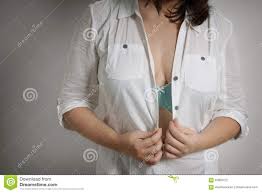 I pointed at the button on her blouse just below her breasts.
I spoke quietly but I used the command voice. "That middle button, Monica. I want you to undo it for me. Now." 
She stared at me. That was interesting. And I could tell she knew what it was. She frowned. 
But before she could speak I said, "That button. Undo that button for me, as you've been told. Now, Monica." 
She closed her mouth, still staring at me. I said, "I'm waiting." 
I waited.