Monica looked at her belt in my hand. Then she looked at me.
I smiled at her. "I'm going to do a magic trick."
"Oh?"
"Turning a bad girl into a good girl. Turn over, Monica, and look out the back window."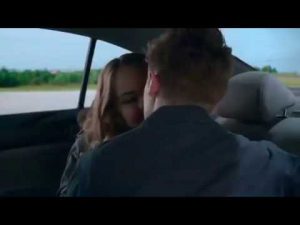 "Just a moment." Monica kissed me, so I kissed her back, as was only fair. We were snogging in a taxi. Suddenly we were ordinary. Monica touched my cock, and grinned while still kissing me. She was giving me power over her, but my cock was hard because of her: even without hypnosis, she had power over me too.
Then she broke away, still stroking my cock. Her eyes were innocent. "Am I really such a bad girl?"
We were still whispering. There was a taxi driver in the front seat, wrestling with the traffic. "Bad enough to deserve this belt. Now turn around. Knees on the seat."
"A woman can't 'deserve' to have her arse belted. She can decide that it might be hot." 
"I'm not going to argue with that. It's true in a way. But I bet you'll come to see that it's not true, as well."
"I see. Like mind control. This is a bit like hypnosis, isn't it?"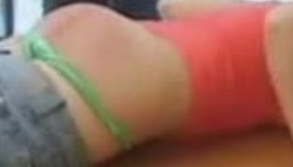 But she was delaying things I felt urgent about. "Knees on the seat, Monica. Now, or I'll pull you over my knee. And that'll get the action into his rear vision mirror."
Monica nodded. "Strict." She turned and climbed onto the seat, looking out the taxi's back window as instructed.
I whispered, "Hot. And you said if I'm strict, what do you call me?"
"Sir, sir." There was something almost orgasmically pleasurable in hearing her say that. It conceded and promised me so much. I wondered if it had felt as hot to say it. I decided to assume that it was close. I tugged her jeans down a little further, so they left, clumsily covered, the under curves of her bottom.
I whispered, "First one's on bare skin. The way it has to be. You keep your mouth closed, girl, till I'm done.
Monica nodded. Mouth closed, lips pursed. I folded her belt in two and wrapped it once round my hand so the swinging part was short: I didn't have a lot of room. I swung it back, and then struck.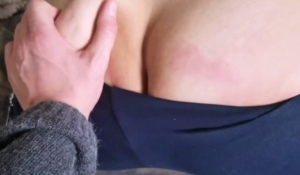 The leather cracked across the fullest part of that beautiful little bottom, deeply curved. Monica's head jolted up, eyes wide, and her mouth open.
But she stayed silent, so I didn't punish her for that.
The second stroke was about three centimetres higher. It was as loud as the first, but though I'd made sure it hurt, Monica was less surprised by the pain. Her eyes were still wide, but she kept her mouth closed. I wanted to kiss her.
As Monica's hand edged down to reach under her belly and stroke her cunt, the driver said, "Uh, you guys OK there?"
I said, "Oh, fine. She just looking in her briefcase. It's got a ridiculously loud catch. Sorry."
"Uh huh." The driver had heard bullshit before, but he couldn't risk turning round, not in this traffic.
I laid the last four strokes across Monica's underbum, protected by her bunched jeans. I made the strokes harder to compensate, but it was clear that, with Monica's hand pressing and working on her cunt, it didn't hurt her any more. Her mouth was open again, and she seemed … happy.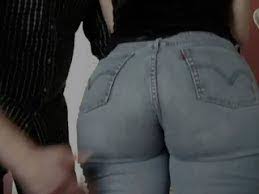 After the sixth stroke I said, not whispered, "Good girl." I tugged her jeans up, then smacked her with my hand.
Monica did up the top button, then turned and sank back onto the seat. "Thank you, sir. Yeah, I felt that."
I reached for her and we kissed again. She looked at me. "You're weird. That's so not proper behaviour." 
"Is that a complaint?" I still had her belt in my hand. 
"It is as far from a complaint as I can manage. Sir. You can,"- she dropped her voice – "whip me in a taxi any time you feel like it."
 "I know." 
"Ha! Said Han Solo. Um, we're getting close. I mean, to my place."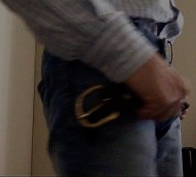 I paid the driver. There was five bucks' change, and he put that into his pocket, letting me know he wasn't asking. As we got out of the cab he said, "Nice briefcase."
We had, of course, no briefcase. And I still had Monica's belt in my hand. I shrugged and smiled at him. He didn't know what had just happened, but he knew he'd missed it. He didn't smile.
Monica said, "Thank you! It's a magic briefcase, and only a very pure taxi driver can see it." I bet that was her stage hypnotist voice, but it didn't seem to be working. He waved once, and drove off.
I took her hand. "Let's get you home."