Monica had just asked if I was proposing to spank her here, in a busy restaurant in Circular Quay. It wasn't exactly a request, but it was a challenge. 
So I said, "Have you done as you're told? You have so far. So you're a good girl. I've got no reason to spank you." 
That left it up to her. Suddenly we were doing a lot of eye contact. I smiled at her, deliberately smug, hoping to provoke her into some Bad Girl act. She had a half-smile, while she weighed up her options. And mine: was I bluffing? Surely that had to be bluff.
She reached for the button she'd undone, still looking at my eyes, and made to do it up again. So I grabbed her hands, and pulled them forward, across our table towards me. Then pulled a little further, so she had to raise herself from her chair. So she was bent over a table, arse up. She probably wasn't as familiar with being in that position as I was with seeing girls in it, but she realised what it meant.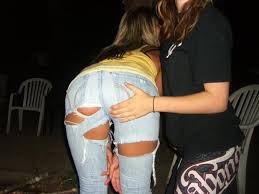 Still holding her hands – she made no attempt to withdraw them from my grasp, which she could easily have done – I got out of my chair, crossed the table, still holding her hands in my left hand, and smacked her jeans-clad bum with my right. She felt good under my hand. It was a game, a silly piece of showing off, and it was also sensual and sexual.
It was the first time I'd touched her body in a sexual way. The spank sounded like a thunderclap and even in a crowded restaurant it drew attention.
Monica said, "Yikes!"
Which suggested a total absence of pain and distress, so I smacked her again. And with that we had an audience. Monica didn't know that, but she giggled, and didn't stop laughing with the third spank.
I said, "I've told you and told you about your behaviour, Dottie! I hope you're embarrassed, at having to be spanked in public like a Naughty! Little! Girl!" Those last three words, of course, were the last three spanks.
A woman waiter approached. Disciplining naughty stage hypnotists was probably against restaurant policy, somewhere in the rules. However Monica robbed her of her moment of glory by laughing, and saying, "You called me Dottie!" She laughed again. The waiter glared at me but backed off. I let go of Monica's hands so she could subside back into a sitting position.
Monica sat, and pretended to wince. She said, "Dottie?"
I answered loudly. "So everyone knows your shame, Dottie Moncrieff!" There were probably photos taken, though they'd have got her jeans-clad arse and not her face. But the odds were good the photos would reach Twitter and such. So it was best that someone non-existent took the infamy and got the internet searches on their name.     
Monica nodded. She'd just gone through the same thoughts. "So … Dottie is very sorry. Possibly Sir." She undid that disputed button again.
"Possibly sorry?"
"No, possibly I might call you Sir. If you were very strict with me."
"Ah. I like that idea. Both those ideas. Taxi?"
She nodded, "A taxi seems to be a good idea."
"Where would you – "
"'Your place or mine?' If you don't mind, I've got a cat to feed. So unless you've got an Irish Wolfhound or something that outranks my Flivver, I'd like …" 
 "I have to meet Flivver. Your place it is."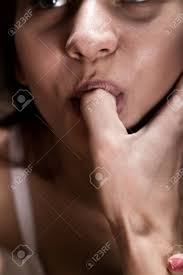 "Probably a good thing. You've probably got whips and paddles and god knows what at your place."
"My hand does all right. If called upon."
She grabbed my hand, and pulled it to her mouth. She bit my thumb then kissed it soothingly. "Split the bill?"
"I understand it's traditional that the person who's going to smack the other person's arse before they fuck them, has to pay the bill."
"Wow. A gentleman."
"Promise not to be."
I stood up, and Monica did too. I put my arm round her waist as we walked to the counter where I paid a disapproving waiter, and then we walked out to the taxi ramp. We walked well together.