Monica undid my pants, and pulled them and my underpants down below my knees. My cock flicked free, bobbing about near her mouth. She touched the head with her tongue and of course it flicked higher. She had to reach and take it firmly in her left hand, so she could kiss the end, her lips wonderfully soft, without it leaping out of range.  I helpfully pulled her t-shirt off, so she was naked on her knees to a clothed man. It seemed right. 
When her arms were free of the t-shirt she said, "Nice cock." Then she moved forward and took the glans into her mouth.
I said, as men will under those conditions, "Ah." I tried and mostly managed not to move. Partly that was because I didn't want to seem rude, and discourage her from sucking my cock at all, and partly because I liked the idea of her doing all the work. At this stage.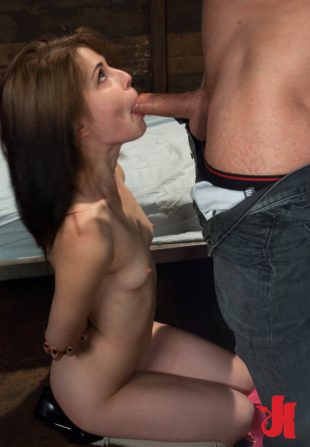 I thought, as she moved forward and took more of me into her mouth, still tonguing and licking me, more than sucking, about her saying my cock was nice. I've always been puzzled by that, when women say it to me.
A cock is a cock, if you ask me, and I can't see how one is nicer than another, though it might be bigger or smaller than average. Maybe there's something loveable about mine, or maybe it's just something that some women say to all guys, once cock becomes an issue at all.
I don't know, and I've never queried it. 
I swung the belt down, not hard, so it slapped her bottom, vertically, and wrapped down the underbum to her left thigh. She made a noise of surprise rather than pain, and I did it again, but on her right. She said, round the cock in her mouth, "Why you whipping me?"
"Make you feel good. You're not just serving me, you're under my discipline. And the belt helps you know that. Feel it."
Monica licked the underside of my cock. "Interesting."
Then she took me deep, all the way into her mouth, so it was jammed into her throat. I said nothing, but my legs were shaking. I reached down at last and took a handful of her hair and pulled. She made a sound of acknowledgement: that was right, and expected.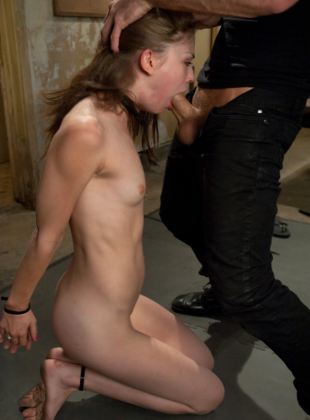 I began to control her movements, moving her forward and back while I thrust in her, fucking her mouth and throat. I gave her two more strokes with the belt, and she took that as encouragement, sucking harder and moving her head faster, only partly under my direction. So I gave her two more. Her mouth opened a little at each impact, as she gasped lightly, then resumed her task.
Monica put her hands on the backs of my thighs, and sucked hard. She wanted to show she was good at this, and she was. I looked down at her striped backside.
Vertical stripes crossed the earlier horizontal ones, so that her ass was marked out like a noughts and crosses game. Or two.
Danny the cat was watching this, the human female apparently serving the male, receiving pain as her reward and apparently enjoying that. He might remember that scenario, from the days he still had his balls. He moved, ignoring hs mistress, and began wrapping his body round my feet and ankles. Monica and I both noticed. She did eye contact and I shook my head. I had no idea what he was up to either. Cats are weird.
Monica said urgently, while my cock pistoned in her, "Belt!"
I'd forgotten my duty. I laid down four more strokes, while she took me deep and hard. And, of course, the force both of her service and her submission was too much for me.
I started to say, "I think I'm about -" And then I came, body shaking with the sugary sweetness of it, and thrust and spurted into her mouth, while she sucked hard, urgently trying to take it all, and not spill. I thought she'd expect to be punished if she let a drop escape. She was probably right.
I released Monica's hair and caressed her face. She had her head down now, focussed on sucking and licking my cock clean. She smiled up at me at last, and put her tongue out, so I could see my come on it. I said, "Swallow."
She did. "Yes, sir." Then returned to nuzzling my cock, now going soft in her mouth. 
I said, "Well, bed, I suppose. Though I'm not going to be able to fuck you for at least an hour."
Monica released my cock at last, and shooed Danny. He made his way to the top of the fridge so he could glare down at us. "We'll be able to pass that hour pleasantly enough. Anyway, sir, I think I know how I can get you hard, whenever I like."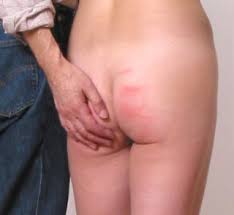 I helped her up, then held her to me while I smacked her bottom, six times, with my hand. Monica made no complaint, and didn't squirm. She just arched her bottom out to make a better target for me. They weren't light spanks but she was laughing. And she was right. I could feel signs of returning penile interest, a little flow of blood. Though I still couldn't manage an erection just yet. It had been years since  I'd been a teenager.
I looked around her kitchen and saw a wooden spoon on the shelf with eggbeater and the grater.I took it in the same hand that held her belt. I looked at her. She smiled, knowing what the spoon was for. 
So I said, "Yeah. Have you ever had this used on your perfect little ass?"
"You're my first pervert. Sir." She grinned. Calling me 'sir' was silly. As well as hot. "So, no. I'm a wooden spoon virgin."
"Lovely! Well, I think I'll give you a hundred strokes with this."
"And then you'll be hard enough to fuck me, won't you? Sir."
"I expect so, Monica. Bed."