Late that night Maddie struggled on my carpet. She was gagged, and a vibrator buzzed happily in her pussy. She was a pyramid, with her buttocks high, her knees, face and breasts pressed onto the carpet. Her wrists were bound, firmly, to her ankles.
I watched her from my seat, pretending to read a book. Every so often, and unpredictably, I adjusted the intensity of her vibrator, using the box that lay on the table beside me. Maddie was in constant movement. She would have been restless even if it weren't for that pleasuring, tormenting vibrator: there is simply no comfortable position when you are hog-tied in that fashion.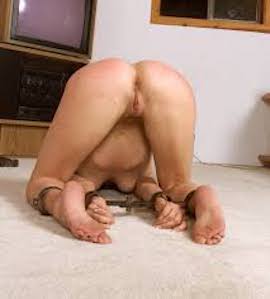 She shifted, endlessly, her weight from one knee to the other, sometimes taking more weight on her upper body to give her knees a rest. Her inner thighs shone wetly from the fluids from her aroused pussy, and the carpet below her face was wet from the drool escaping from her gapped mouth.
I said, "Come for me, Maddie."
She sobbed with relief. Then I said, "You have thirty seconds."
Her buttocks clenched, and her whole body shook, desperate to obey within the deadline. But Maddie is always aware of deadlines, of the seconds passing, and the distraction means she almost never makes it in time.
At thirty seconds I said, "Stop!"
A muffled sound of despair emerged around the gag. She watched my feet as I stood up and went to get my belt, which lay on the table after earlier use that evening. "Oh, Maddie," I said.
I applied the belt six times to the backs of her legs, taking my time. The leather was loud across her flesh, but she took it is near-silence. She fought to keep herself still and presented for the strokes. Then I strapped her harder across her bottom, and suddenly she was all motion and muffled yelps.
I said, "Now! Thirty seconds, or I'll use the dogwhip."
The dogwhip is a small, single-tail lash. Maddie had seen it but not yet experienced it. She'd been extraordinarily good, and careful, whenever I mentioned it.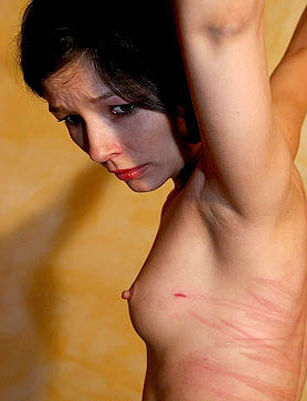 I knew from her face when I'd allowed her to touch the slender, pleated-leather whip that it was the implement she most feared.
But she'd been close to orgasm before, and her pain, her helpless, bound status, the vibrator and her humiliation all worked their sexual magic: her eyes closed tightly, then opened wide, at twenty seconds, and her body shook convulsively.
Commencing at twenty-two seconds. I said, "Oh Maddie love. See, you can be a good girl."
For tonight the dogwhip would stay coiled on its satin pillow.