Ngaire's fingers touched the grooves between her plump labial lips and her inner thighs, and she gasped.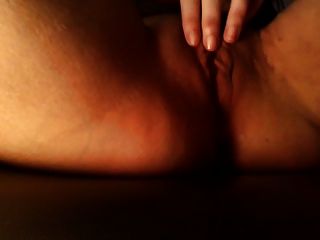 She said, spitting out the words in short bursts as she squeezed her lips, lightly hen hard, with her fingers and thumbs. "Tell me. About fucking me. Up the arse." 
She pressed one finger between her lips, now soft and puffy, and pressed downwards. Inwards. Freddie said, "Uh." He was reacting to her actions, or trying to think of a story.
Ngaire didn't care which. She put a second finger into her cunt, her two middle fingers, and let them enter all the way. Her palm pressed hard against her cunt. Freddie said, "I walk into your room. You look like you're asleep. On your stomach. Your ass is up. You are so beautiful. I smack your ass lightly, because I can't not, and anyway I know you're only pretending to be asleep." 
The fingers inside her hooked, to press upwards at spongy skin. She'd once fucked a doctor, who'd told her that spongelike skin was called the anterior vaginal wall. 
It had seemed incongruous; such a technical name for something so live and blooming. She grunted, raising her arse slightly from the bed. Still, men who know words like "anterior vaginal wall" make better lovers. Probably. She wanted to ask Freddie if he knew. But she couldn't form or speak the necessary words now.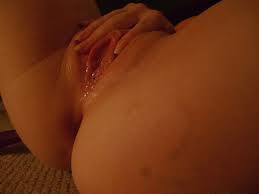 "I take lube, that lube right there in fact, from beside your bed, and I pour some into the cleft of your ass, so it starts to run down to your little opening. I press my hand against your cunt while you feel the lube running down, and the first drops find your asshole, and gather there. It feels so innocent, but you know it's to make it easier for you to take my cock."  
The words reached her. She imagined that, that first entry, not by him but by oil. He probably wouldn't guess she hadn't had a cock in her arse before. She'd have to tell him. He'd be all blokey and proud about it, which would be annoying, but he needed to know: "be gentle with me!" She felt the muscles in her legs tautening, and she pressed her palm harder against her sweet, god, so alive, clitoris. She fucked herself harder and faster with her fingers. 
"I lube my forefinger so it's nice and slippery, and then I slip it into your ass. You're so tight, and I love thinking about how you'll feel, those muscles round my cock. We'll fit so well, my honey, beautiful Ngaire, you on your hands and knees, me covering you, my cock sliding slowly into your asshole."
Ngaire grunted. Her mouth had opened, though she couldn't speak, and she felt her stomach muscles tighten. Something was building. Inside her. She brought in her left hand, to rub against her clitoris while her right hand finger-fucked herself. She felt herself slowly fall back to the bed.  
"But you admit me easily, no qualm, no pain, all the way to the first knuckle. Then I press deeper, to the second knuckle. I move my finger inside you, to let you strip lube off it, and slowly withdraw. I put more lube onto my fingers. And I lean down and kiss your sweet ass. I can't help that, any more than I can help smacking it. Then you feel two fingers at your entrance, slowly pressing, and you suddenly give, you give yourself to me, letting me in. And -"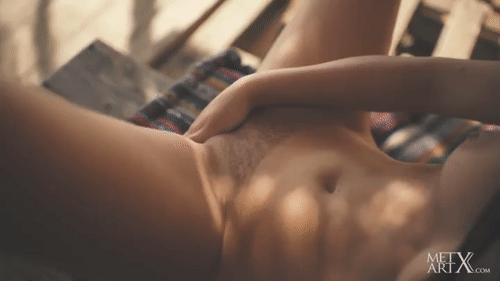 But Ngaire had rediscovered the power of speech. She said, "Jofff! Ah! Fuuuuck! Fuck! Fuck me!" And that power that had been building inside her burst, from somewhere between her belly and the small of her back. A wave of pleasure and power took her. Shook her. Her face and throat in rictus. She screamed. Oh fuck.
She didn't stop working at herself, her cunt. She screamed again. And then, a few frantic seconds later, again. She looked up at last, almost embarrassed, to see what Freddie thought.
He was still in his seat, but leaning forward. His face seemed fierce and gentle, at once. He'd been moved. Then he came forward, onto the bed, his body between her thighs, now fallen, spread and relaxed. He kissed her cunt. As though he was in love with it. He babbled, "Good girl, good girl, good girl, oh good girl…"  
Ngaire put her hand, smeared and wet with her own fluids, on the back of his head.