"Yes. Can I call you 'sir', like your assistant does? I know I called you that before anyway. That was accidental."
"I think, given what's coming, Claire, you'd better. Now, close the blinds. Then take that skirt off. Put it on the desk, beside your blouse and bra."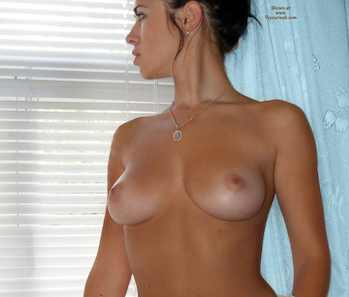 "Yes. Sir." She went to the window, still holding her skirt, and fiddled with the blinds until we had privacy. Then she returned to her place beside the armchair, where she realised she still had her skirt, and put it down. She turned to face me and reached down to slide her thumbs into the hem of her panties. 
I wasn't at all sure I was doing the right thing by punishing Claire, but if I was going to do it at all I would do it properly. "I said put that skirt on the desk, Claire."
"Oh! Sorry, sir." She hurriedly picked it up, folded it and put it on the desk. Then she brought her hands back to her panties. She hesitated. When they were gone she would be completely naked. 
I said, "Just a moment, Claire. I gave you an order. You disobeyed it. I want you to listen carefully to what you're told, and to do as you're told."
She smiled ruefully. "I'm sorry, sir. I think I just may be a little flustered."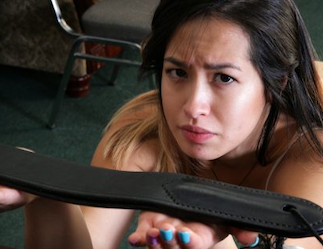 "It's time you had a reminder, Claire. When you're being told what to do, you focus. Hold out your hands. Now!"
"Ah. Palm upwards?"
"Of course." She put out her hands, straight in front of her, while I looked in the cupboard for the school strap.     
When I retrieved it I looked at her. Her face was pale. She had once had a taut, beach girl's stomach, but now there was a thin layer of womanly flesh, which had a different kind of sexual power. She had full breasts, still firm. I could not see them, presented for me, without thinking of kisses, little bites, and endearments. I had not realised, before she took off most of her clothes, just how desirable Claire was.
Her hands were held out, proffered for punishment. They trembled a little, but not more than other girls, or boys, who'd held out their hands for me to punish. I touched her right hand then, and pushed her fingers down so the surface was completely flat for the strap.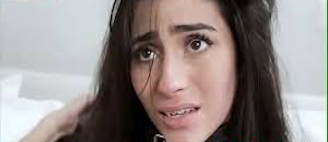 "Look me in the eyes while I strap you, Claire. And thank me after each stroke. You're going to get six. That's if you behave yourself."
"Yes, sir."
There was something in her eyes, as she gazed at the eyes of the man who was about to hurt her. There was fear, but also a kind of anticipation. I'd seen that look before.