The previous episode is here.
I'd told Stephanie that I'd fuck her again when, and possibly if, she could make Maires moan. Since I wanted her very much, I was intending to interpret any sexual comfort noises that Maires might make as moans. But Maires had a strong mischievous streak, and I expected that she'd be silent for a while, making Stephanie work and keeping me from entering her.
I knew that Stephanie minded my cock not being in her, which was in itself a powerfully erotic thought. She was on her knees, her ass up and her head down between Maires's thighs, mouth and tongue on Maires's cunt, her hands under Maires's thighs. Maires wriggled under Stephanie, to give her better access. She let her hands rest lightly on Stephanie's head, caressing rather than directing. 
I watched them, two beautiful women, both of whom I loved in different ways, in loving embrace. Stephanie was having a new experience. I wondered how she was feeling. But as far as I could tell she was pixified, enchanted, happily exploring Maires's cunt and her own responses.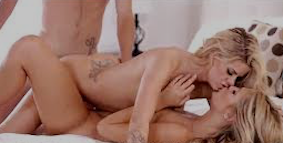 I was still dangerously close to coming. When I entered Stephanie, I hoped to last at least until Maires came. But just then simply entering the soft paradise of her cunt again, feeling her ass pressed against me, would bring me to release.
I tried to relax, and despite the eroticism of their mutually moving bodies, I thought for a moment about all the species of dog I could name, that began with the letter L: labrador, lowchen, wasn't there a Lhasa something?
But Maires grunted, a pleasured sound, and then made a low groan through her nose. I said, "Labradoodle," which fortunately they ignored, and positioned myself behind Stephanie, holding her hips.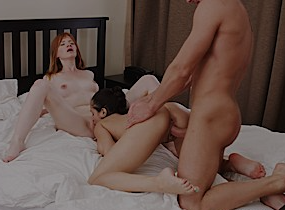 We moved together, in time with the rhythm of Stephanie's head between Maires's thighs, slowly joining.
Then Stephanie gasped, like Maires had, as I pushed deeper into her, sometimes withdrawing a little then moving forward, skin sliding wetly along sensitive skin.   
I wanted to praise them both, for being beautiful, and good and loving, but just then I couldn't do words. Maires made another pleasure noise, under Stephanie's mouth, and I sped up, fucking Stephanie harder, faster. I knew that sound, though Stephanie hadn't heard it before. Maires was close.
Maires lifted her knees then, thighs tightly clasping Stephanie's head. Her hands that had rested on the back of Stephanie's head clenched, seizing her by the hair, and pulling. Her body worked, pushing up at Stephanie's face. Her eyes squeezed shut, and her mouth opened, a silent scream, and then her ass rose from the bed while she clawed at Stephanie's back and growled.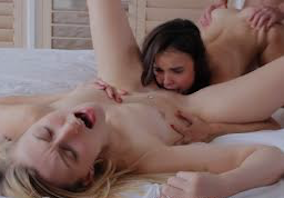 Lioness, I thought. My love is like a lioness. And I leaned down to kiss the back of Stephanie's neck, reached under her to hold her breasts, and came in her. Also growling.
Stephanie laughed, triumphant, having made us both come. But, I noted, she hadn't come herself.
We two growling animals would have to pleasure her, next. Stephanie had fallen amongst the burning beasts.
The next episode is here.