Megan, who'd written to me, was pretty, clever and real. So I contacted her back. She insisted on a picture of me with my shirt off. I starved myself for a couple of days, which made no difference, and managed my own phone camera and bathroom mirror picture. It took nearly forty pictures to get one in which I wasn't too obviously sucking my stomach in. But it passed.
She called me and made a speech she'd probably made before: she didn't want a relationship; she wanted hard bdsm sex. In her bedroom, she wanted a man to take what he wanted from her and do what he wanted to her. But I wasn't to think that I had rights over her when I wasn't in her bedroom. Okay?
I said all that was fine with me. "By the way, you don't like Dobermans, do you? I mean, romantically?"
"Dobermans?" I'd made her laugh. "You've been on this site, and now you ask all your girls if they're into dobermans? Like that's something you have to be wary of? You've had a time!"
"I could a tale unfold…"
She, fortunately, didn't want to hear it. "Anyway I hate dogs. Do you want to, um, stick pins in me?" I said something crass about things I did want to stick in her, but not pins, and so she agreed to meet me in what was becoming my favorite bar.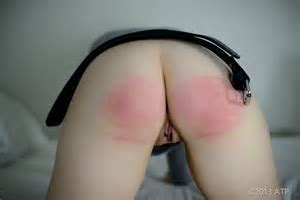 Megan looked as good as her photos, and I looked no worse than mine. I knew I wanted her once she'd walked through the door. She took longer to decide about me, I think, because she was much prettier than me. But I clinched my case when she knocked our table, spilling wine, and I promised to leather the front of her thighs for that.
If I'd said "thighs", or "the back of your thighs", I might not have won her. But "the front of your thighs" showed ambition and attention to detail. She considered that, and said we had a date.
The date was for Friday night, at her apartment. Some time that night Megan was tied to a table, face down, with her knees spread and drawn up like a frog's. I'd roped her knees to the tops of the table legs. Her thighs blushed front and back, since I'd over-delivered on my promise.
We were in a classic dominant-submissive configuration, Megan naked, bound and bent, and I standing clothed before her, my cock in her mouth. She suckled, slowly nodding, while I drew back and pushed forward, unhurried, as if absent-mindedly.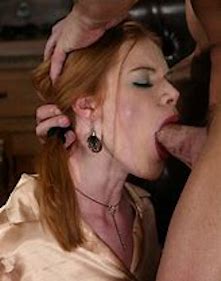 About twice a minute, I would swing my belt down her back so the end cracked and curled around her bottom and the insides of her thighs. Megan rewarded each stroke by taking my cock deeper for a second or two. She'd said it was safe to strap her hard because she never bit when she was strapped. Her mouth always opened, in response to pain.
I was impressed: it's not something that most people know about themselves. She was more experienced and skilled than me. She was a technician of pleasure. She was also quite wise and cheerfully sensible, and though we were nearly strangers I liked her.
We'd never be lovers. But we gave each other truth. Accepting Megans measured submission let me expand to fill more of myself. It was like re-opening the disused wing of a house. 
The next episode is here.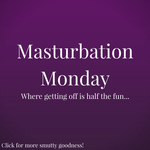 Note
I don't have time to write another instalment of the Maires, Stephanie and me story. I'm writing a non-erotic novel, and dealing with crazed bureaucrats. So this is a story I prepared earlier.