This is my first contribution to Food for Thought Friday. This week the topic is: 
1 Do you have a sexual fantasy that you would be embarrassed or ashamed to tell anyone about?
2 Is it a complete fantasy or would you like it to actually happen in real life, if you had the chance?
3 Are you brave enough to share it here with us?
Response:
I don't really have a favourite fantasy. I make stuff up as I go along, whether I'm domming, fucking, or just fantasising. But I've come back to this one twice in four years, once in a post from April 2012, and once in an email today. So at least it's got staying power. 
1 The fantasy.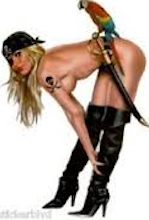 I am the captain of a pirate ship, or a naval ship from the days of wood and canvas. The crew see me on the quarter-deck, smiling, stern, looking boldly into the horizon. 
But if the wooden rails weren't there they'd see me buggering the cabin girl, Erica, who is keeping her head down. Erica, by the way, is a stowaway found and put to work; the crew think she's the cabin boy, Eric.
Erica, poor thing, is trying to mop the quarterdeck, bent at the waist with her captain's cock up her arse.
Because if he finds a speck of dust, he's going to take her back to his cabin, bend her over the bed and cane her until his cock has recovered enough to bugger her again.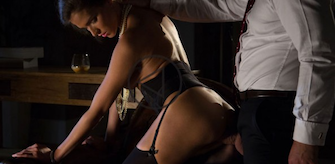 That's the worst thing about being an attractive but slightly careless stowaway. Once you're found, the captain will want you to work your passage. Work it hard and work it flexibly. 
And there's always a speck of dust, by the way. 
It's quite short, by my standards, isn't it?
2 Is it a wish, or just a fantasy?
I'd love some near equivalent to happen in real life, though I'll have to concede that I don't own a pirate ship, and if I did I'd find it hard to board another ship and start killing and plundering. It just doesn't seem like nice behaviour. On the other hand, the idea of buggering a woman who continues to try to clean the floor while I butt-fuck her, and then waits fearfully for my assessment of her floor-cleaning prowess: that's hot enough to be getting on with.
3 Are you brave enough to tell us what it is?
No, it has non-consensual or at best semi-consensual elements. I'll never tell anyone about that fantasy.
Oh.