In the fantasy scenario, the girl forgot her gym shoes for the third day running; she called a woman teacher a rude name, she did something. She did it deliberately or unconsciously to attract the attention of the older, but still fit and sympathetic, teacher whose name she whispers to her pillow when it – the pillow – is clasped tight between her thighs.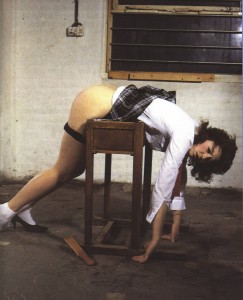 And now she's alone with him in his office, about to bend over his desk, lift her pleated skirt, and wonder if she'll have to lower her panties as well. She hopes not, but when she fantasises about this moment, she always hears the command to take down her panties. When she dares, in her dreams she is told to undress, and she bares herself completely for the man she desires so badly.
She has bent over, and she waits. She listens for information about the man behind her. She hears the faint rattle that tells her he has selected the cane and not the strap, and in a kind of panic she pulls her skirt higher for him.
She hears his slight cough when she lifts her skirt so high, as he takes in the delicate bones of her lower spine, the delicacy of her waist, and her desire to please him. The knowledge that she has moved him with her obedience and her body overtakes her with a rush of emotion and passion. She cries out, "Oh sir, please not the cane. i'm a good girl really." 
Whatever 'really' means.
But in reality, that line is likely to be spoken by a woman in her 20s or her 50s or anywhere between, who left school and tremulous virginity long ago. She speaks the sentence knowingly, mocking it while also acknowledging the power of the scenario in which it's embedded.