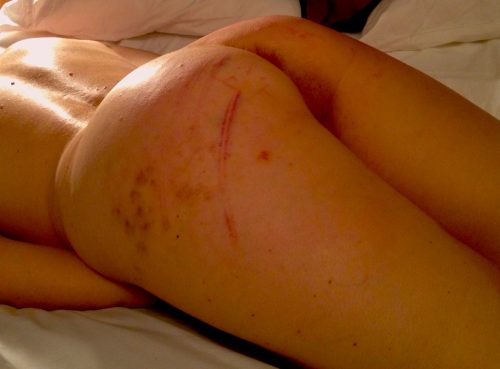 "Please may I come, Master – "
It was a gasp of desperation, not really a question. It was morning. Her body still tingled and ached from the pleasures they'd taken that night, before they fell into sleep together.
"No, darling. Not yet. Stay on the edge, girl."
She writhed, fingers busy under her belly, pleasuring herself, staying on the edge: ready to come but not allowed. What drove her to beg, he suspected, was not just the need for release, but also the sweetness she felt, in having something so powerful, such an intimate part of herself, controlled so strictly.
"Please may I come? Master please may I come?"
Her voice was higher, with a tinge of anxiety. She sounded close to gasping, pleasurable panic. It excited her to have to beg, and to know she would displease him, and be severely punished, if she came without permission.
"You're a good girl. But no, not yet."
The question, and the knowledge that he would refuse, drove her closer to the orgasm she needed, and had to fight not to have. She groaned. Her bottom rose, and fell, while fingers worked at her cunt.
"Please … please …" She'd lost words. "Please Master…"
He didn't answer, waiting. Holding the world in suspense, it seemed, in this room. At last he smiled, not that she could see. "Good girl. Come for me. Now!"
He counted the seconds.
One. She moaned, low in her throat.
Two. Her ass rose and her legs opened slightly. The world stopped still. There was terror in her face. How far she had to fall.
Three. She screamed. Her ass dropped and her feet lifted off the bed.
Four. She gasped, writhed, her muscles taut, then screamed again.
"Good girl. Good girl, darling. You're my girl." He put his hand between warm thighs. He slipped three fingers into her, to be tightly, wetly, warmly held. She wasn't really conscious yet.
She breathed, "Thank you thank you thank you thank you. Oh Master. Thank you."