So, about seven years ago, when I still lived in the city, I was hosting my first ever bdsm meet'n'greet evening, and as I mentioned, this woman – I'll call her Ruby – turned up wearing a fishing net, tiny pink knickers and little flashing red lights pinned, as badges, over her nipples. She was a cheerful, flamboyant eccentric.
I've always liked that in other people, and I sometimes aspire to it myself. I wasn't feeling very flamboyant at the time, though, so I got her a glass of wine and talked to her instead.
She told me she'd driven a long way to get to this event, and somewhere out in the middle of nowhere she'd been pulled over by a cop, officially for being a tiny fraction over the speed limit, but really because the cop could see two flashing lights speeding along at nipple height, and it had looked weird. 
So the cop found himself smack in the middle of a porn scenario, with his ticket book in his hand, staring down at a woman undulating all over the driver's seat wearing flashing nipples, a sweet smile and fishing equipment. She wound down her window and said she'd certainly been a bad girl, and she was terribly sorry and ashamed for having had to be stopped, and she'd do anything to compensate him for the trouble she'd put him to.
The cop had stood there staring down at her for a good 30 seconds after that speech, and Ruby was getting her hopes up, she said, because he was a very handsome policeman. Then the cop laughed, wished her a good time at the party, wherever it was, and warned her not to drive home afterwards. And he'd waved her on.
While she was telling this story, the test of the group gathered round us. They were dressed more traditionally, as bdsm people being discrete. The submissive girls were wearing collars and plain white or plain black dresses, and the woman doms were wearing corsets and long black dresses. All the men, sadly including me, were wearing black, generally the jeans, t-shirt and jacket outfit, with boots that set airport scanners off, what with all the metal zips and rings and chains and such.
I enjoyed Ruby's performance, but after an hour I'd had enough charming eccentricity,  and I drifted away to talk to less interesting people. I was struck, though, by how much less interesting they were.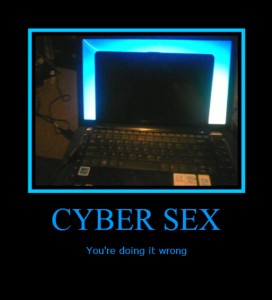 There was an on-line couple reminiscing about the cyber-spanking he'd given her the night before. I had trouble getting my head around that. They lived in the same city, and they were here together, so obviously they could meet. Even if one or both of them were married, wouldn't they rather get together in meat-space and do real things?
 I was sympathetic to the idea that something that "happened" on-line had really happened, in some sense of the word "really".
People can fall in love with each other without ever meeting, in the flesh. When they broke up the heartache was real. I accepted that.
 But choosing to do sensual things in cyber only, when the two bodies could easily hire a hotel room and lock the door behind them: that made no sense to me at all. Typed or skyped words are no substitute for the meeting of skin and skin.
There was also the problem that some of the things that work in cyber, like naughty pranks and giggly cheekiness, work better in text that in real life, unless the performers have a certain amount of acting ability. So, I'm afraid, I found them embarrassing.
The were male doms swapping woodwork tips, for making St Andrews Crosses, whipping benches and so on.
There was a group discussing football. I just never found a way to care about football.
I'd already known it in the abstract but this really drove it home to me: just because you have a kink in common with someone, there's no reason to expect that you'll have anything else.
 So I was trying to be a good host, but the whole thing was making me feel a little low, a little wan. I met the bdsm community, or one segment of it, and I was bored shitless.
And then Ruby left. That's when it got weird.