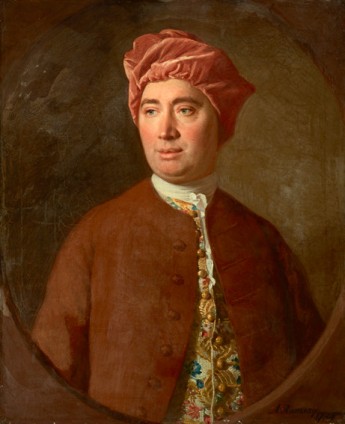 A couple of years ago, in Glasgow, I decided to get a kilt. I'd been to a ceilidh and I'd felt underdressed. So I went to Sauchiehall Street and got measured up for the full regalia, with a Prince Charlie jacket, sporran, sgian dubh and the rest of it.
The tailor wanted to get me the right tartan by family connection. But most of that family tartan stuff was invented in the 19th century, and mostly engages American tourists. I wasn't especially interested. I went by "favourite philosopher" instead.
That is, favourite philosopher whose family has a tartan, which rules out the likes of Kant and Spinoza, for example. For me it came down to a choice between the Russell and Hume tartans. It took me two days thinking about the options, but in the end I had to choose Hume, with all due respect for Bertie. 
The picture on the above right shows Hume in youngish middle age, with an expanding middle. But no end of a snazzy dresser. 
When he was young Hume was, apparently, slim as a weasel, and a regular fucker of the women and girls in nearby crofter farms. 
There don't seem to be any pictures of Hume from his short-lived young-and-skinny, girl-hound period. Later he had to get a great semi-circular chunk cut out of his dinner table, so he could still fit his stomach in and sit reasonably close to his guests. 
One thing neither Hume nor his biographers ever addressed is that he was the son of the Laird, so maybe many women and girls on his father's lands didn't feel it was safe to turn him down. 
The truth is, I don't know what the rules were about crofter-daughter fucking. Maybe it was understood that if the Laird's son wasn't being charming, funny and sexy, and didn't come bearing gifts, then the crofter's daughter could send him off with a flea in his ear, with no repercussions. Maybe fucking the Laird's son was a rite of passage, flattering and generally fun. We don't know what really happened, or how either party perceived it. 
I can't assume that sexual ethics were the same in rural Scotland in 1728 as they are in my tiny corner of the world today. The only Scots copy of The Rules (1728 edition) is in the University of Edinburgh Library, where it's guarded by militant librarians hired to kill or distract anyone who asks after it. I grabbed the book, and got a glimpse at a section on what to do if the Laird's son won't help you deal with a fly-struck sheep. I started to read it, but … something. I forget.
Obviously, Scotswomen often fancy Scotsmen, and the young Hume was certainly one of those. Actually, Scotswomen seem to fancy chaps of all accents and hues, which is the reason why we have so many little Scots.
And there's a reason why men like myself wear kilts: it's to attract Scots (also Nova Scotian and mainland Canadian) girls, who notoriously like bumcrack.
I hope your Christmas is still going well!