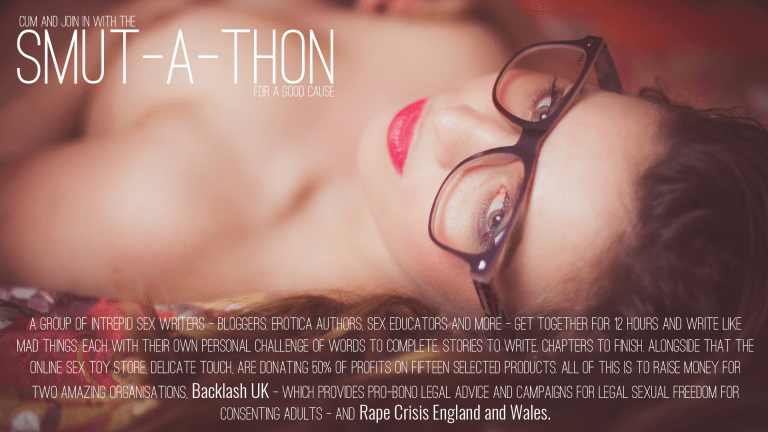 Smutathon 2017 was on 2 July! In Smutathon writers on three continents wrote their hearts out for 12 hours each. The idea was to raise awareness and raise funds for two vital charities: Rape Crisis UK, and Backlash, an organisation established to challenge the UK's draconian and bigoted censorships laws, and to provide legal assistance for producers of material who fall afoul of this law. 
The target was to raise £2,000. And – with a lot of generous help we met the target! The generous help came especially from one modest guy who doesn't want a fuss made, though he deserves one.
But no doubt, and reasonably, you want to read and enjoy the literary filth that was produced in that 12-hour writathon. There's a wide range, from hotly serious sexual writing to (intentionally) silly silly stuff.
 So this be the list: all the Smutathon pieces, and where to find them! 
Your links to all the yummy Smutathon pieces! 
Coffee and Kink: Homepage
Smuthathon writings!
Terrifying sexual laws you may not know about
Can the concept of foreplay just die in a fucking fire?
Review: Idee du Désir Orchid 1001 Nights Dildo
Daphne Nevada: Homepage
Daphne Nevada's Smutathon links page
Note: This personal links page links to twelve (12!) brilliant pieces of Daphne Nevada Smutathon erotica!
Elliot Henry: Homepage
The nice thing about summer is not wearing any clothes
Eve Ray: Homepage
When EU citizens are not wanted
The Other Livvy: Homepage
The Other Livvy's Smutathon Links Page!
Note: This personal links page links to fourteen (14!) pieces of brilliant The Other Livvy Smutathon erotica!
Jerusalem Mortimer: Homepage 
Smutathon posts
Smutathon begins (in Australia) in 50 minutes!
Reasons not to work for News Corpse
Life is bleak till you've had beak
Life is bleak till you've had beak 2: With face-sitting!
G'night, all. For me, Smutathon is over
Scandarella: Homepage
Smutathon posts
@TheWragger
Smutathon posts 
[Note: These were written as Twitter DMs, because @TheWragger doesn't have a blog.  But @TheWragger gave permission for people with blogs to post them, so I've hosted them on this blog. That way we have all the work written for Smutathon that I know of.]
Final note
If I've left out your Smuthathon contribution, I promise it was pure incompetence (mine) and not intentional. Send me your links and I'll be proud to add them.