Amy took another mouthful, the trouper, and resumed, lowering her mouthful of cold champagne down below water level and onto my cock. She sucked diligently, moving her lips up and down on the shaft. I put my hand on the back of her head, so she could feel I was controlling her, but lift her head and gasp in air if the needed to. 
I didn't think the thing would be possible, but this was working. That sensation, of tension and urgency that seemed to start at the base of my spine, was there, and building. I was going to come unless I stopped her. I thought about pulling her off me, getting out of the bath and carrying her to bed, but this was too good to interrupt.
I brought my forearms down to the bottom of the bath so I could lift my body slightly. It meant most of my cock was out of the water, so she could breath, when she wasn't taking me deeply and I wasn't obstructing her trachea. Most of the time.
But in a while I put one hand on the back of her head again, holding a handful of her hair, and pushed her down a little deeper, taking my cock all the way. Her lips, sweetly pursed on my cock, touched my groin and stayed there.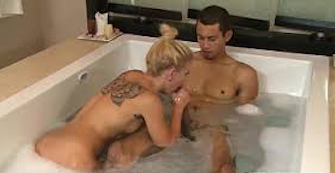 More water splashed. After nearly a minute I pulled her up, so she could breathe. She gasped in air, but without taking her mouth off me, and resumed sucking. Still, she put one hand on the base of my cock so she didn't go so deep.
I focused my attention on the soft and firm feel of her thighs between my feet, the movements of her mouth, and the hollow of her cheeks as she sucked me. The sweetness and tension came closer, and I said, "Um, Amy, ah."
I'd meant to warn her that I was about to come. But it was too late for that: a second later I'd started to gush, my head falling back and my body taut, while I made the noise that a lion makes, when beginning to eat an impala.
Amy made her own high-pitched nasal sounds. She sounded happy, though she hadn't come. She swallowed once, hard, and kept her mouth on me, sucking and swallowing, then cleaning and kissing me, until I started to go soft.
NoteS:
Breach of UK's stupid censorship law: Asphyxiation, again.
Smutathon
Smutathon involves writers pumping out filth for a 12-hour marathon of smut. It's to raise awareness, and money, for two great causes: Rape Crisis Centres, and Backlash, an organisation challenging the UK's insane censorship regime.
What I'd like you lovely, lively people to do, please is go here, and support Smutathon with your donation.