In the bath I lay back, arms resting on the sides while Amy knelt in front of me, took a mouthful of champagne, and lowered her body so she could close her mouth on my cock. That placed her nose and mouth some way under the water. 
Amy liked breath constriction, but I'd been reluctant to choke her with with my hand. So, being a clever girl, she'd found a way. And this was a stunt: she liked showing off.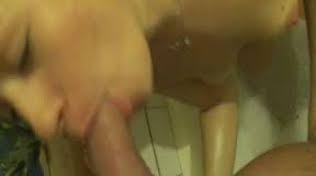 She kept her mouth tight so the cold champagne didn't mix with the hot bath, and laved my cock with her tongue and sparkling liquid, slowly losing its chill.
When it was warm she swallowed. The sensation was far more intense than I'd expected.
I sat up abruptly, splashing water everywhere. "Holy fuck!"
Amy smiled triumphantly, and took another mouthful of champagne. This time she moved her mouth deeper, her head almost entirely underwater. I watched her floating hair and her rocking, bobbling ass, still looking well striped from that morning's touch of the belt, while she sucked me.
This time she swallowed the champagne more slowly, head nodding, her lips sliding up and down my cock. She disappeared under the water again to take my cock deep into her throat. After nearly a minute there was another chaos of water, when she emerged suddenly into the air, choking and gasping.
Note:
Breach of UK's demented censorship laws: Sexual asphyxiation. Also the reference to Amy getting the belt hard enough to leave stripes on her bottom: that reference is forbidden too. 
Smutathon
Smutathon involves writers pumping out filth for a 12-hour marathon of smut. It's to raise awareness, and money, for two great causes: Rape Crisis Centres, and Backlash, an organisation challenging the UK's insane censorship regime.
What I'd like you lovely, lively people to do, please is go here, and support Smutathon with your donation.