The previous episode is here.
Sir's cock was inside my mouth, but he wasn't moving any more. His hands released my hair and stroked my head gently. At last he said, "Good girl, Maddie."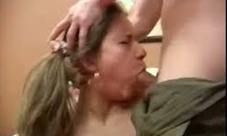 I moved my lips along his shaft, and kissed the head, all velvet even when it was hard. He said, "Good girl," again, so I was doing the right thing. "Suck me clean, girl." I slid my tongue around his cock, to show I'd been reading, but mostly I used my lips. Eventually I nodded, mouth still on his cock, which wasn't quite as hard as it had been.
He pulled out at last. He put his cock back into his underpants and zipped up his fly. "All right, little Maddie. You've been a very naughty, manipulative little brat, haven't you?"
I should have been terrified, but he was smiling. I hung my head, pretending to be ashamed, and said, "Yes, Sir, I've been a very naughty and manipulative little brat. I bet I deserve… anything, Sir."
"Ha. Well, I bet you deserve everything. But there's plenty of time for that. Now, you heard me tell Lucy she's going to get her first caning in this office at four o'clock."
"Yes, Sir." I was still on my knees.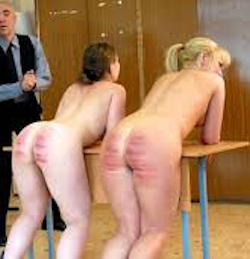 "And you're going to be here too. And I'll either cane you both side by side, alternating strokes, or we'll have it that you hold her down with her head between your thighs while I cane her, and then she holds you down. Lucy seemed to quite enjoy that. So did you, of course. Which would you prefer?"
"I don't know, Sir. I suppose side by side. We could hold hands."
He gave me the look that said, Maybe.
He wasn't asking me what to do; he'd never do that. He was just getting my preference, for information. "Well, we'll see. And after I've caned both of you, I'm going to take you home. To fuck you."
"Oh yes, Sir."
"You two seem to have become friends. I'm not going to fuck Lucy. Not tonight, anyway. Tonight is yours."
"Yes, Sir. But I might like to have Lucy with me. She could watch me getting fucked?"
"Hmm. I don't know. I suppose she could fetch things for us. Help out, do as she's told, give you moral support. And yes, if she wanted she could be there when I fucked you. If that's what you want. She'd have to want that too."
I thought. In one way I wanted him all to myself. Especially tonight. But I was going to have exclusive use of his cock tonight, and that was the important thing. "This sounds weird, Sir, even to me. But yes, I'd like her to be with us."
"All right. Then sound her out, without giving her too much information. Just to sat you're getting special lessons, tonight. If she sounds positive about that, then you can see if she's agreeable. But if you both want then she can come too. Except she won't come. Well, not by my doing, anyway."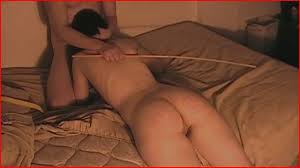 "Does this mean, Sir, I can watch when you fuck her? Later?" I took it for granted that he would, not tonight but soon. It felt like forming a family, in a way. I felt that I was being warm and generous.
Though I wanted to hear Lucy's orgasm cry. I really desired that.
I'd never felt anything for a girl before, but there was something about Lucy. I wanted to worship her body. And I wanted to cane her till she screamed, and to force her to lick my cunt while the tears ran down her face. It felt so strange wanting that. And it felt good knowing that it was now a real possibility.
Sir watched me, then nodded. He took a handful of my hair and pulled me to my feet. "Time you went to class, Maddie. I'll give you a note saying you're late because you've been caned. But…" He held out his hands, and I rushed forward, pressing my body against his. We cuddled, holding each other so tight. I kissed him, though my mouth still tasted of his come, to me, but he didn't seem to mind.
At last he smacked my bottom. "Put your clothes on now, girl. And go to class. You'll talk to Lucy at lunch. And you'll see me after school. Now: Go!"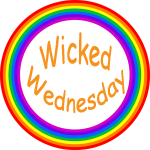 The next episode is here.