The previous episode is here.
Maddie lay beside me on our mattress in the storeroom. Her head in my shoulder, staring at the ceiling, she told me the story of the end of her virginity.
She'd just told me that after being spanked by her headmaster, she'd sucked him off. Once he had his cock back in his pants, he'd said "Good. Now, stand up, Maddie." 
I'll let Maddie tell it, from here. 
Maddie's story
I said, "Yes, sir." I had to put my hand on the floor to steady myself. But I stood in front of him, my eyes at his chest. He was so close to me, and I wanted to hold him. But I waited for orders. He smiled at me. 
"You're such a very good girl. You know you have to come back here after school." 
It was a statement, but I said, "Yes, sir." 
"And why do you have to come back?" 
"I was late, sir. And you're going to punish me." 
"How am I going to punish you, Maddie?"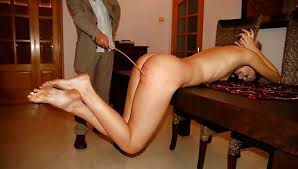 "You're going to cane me, sir. Cane my bare bottom. Like that boy." 
"That's right, Maddie. Or nearly right. I didn't undress him, not completely. You, on the other hand …" 
I'd hoped that. It seemed so daring to think I'd be naked in front of him.
I'd already been more daring than that, but being naked for him would be a new thing too. My legs trembled. It wasn't fear. "Oh, sir…" 
"And you just made me feel extremely good, Maddie. Would you like to feel good after I've caned you?"
"Oh, please. Yes, sir." 
"Good. Then ask me. Say: Please cane me. And then please fuck me." 
I opened my mouth. Then I hesitated. It felt like he could already see me naked. I felt so shy.
The next episode is here.