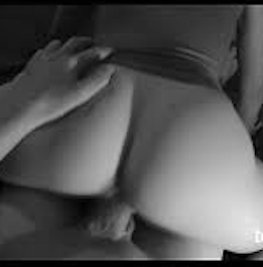 In that broom closet, as I entered her, Amy said, "You." I wasn't sure what she meant by that, but it wasn't hostile. I pushed my cock further into her, thumbs still digging hard into that crease between her buttocks and thighs.
She said, "Idiot." But it seemed that at moment she liked idiots. We began to move together, Amy's ass beautifully firm in my hands and beautifully soft to the pressure of my cock.
We moved faster, and I felt her elbows slipping. She'd stopped holding her hands out.
Amy fell forward, her breasts and face pressed hard and helpless against the closet wall. She scrabbled at the closet wall for a grip, with nothing to grip. We fucked harder.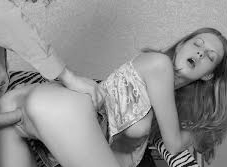 It was pitch black in there, but I felt sure I knew her facial expression at every second, at every movement. I believed she knew the same about me.
I could feel her body tense, and that was no reason to stop or ask how she was. I pumped her, my stomach pressed against her ass.
In a while – my sense of time is never good in these moments – she said, "Nggggh. Fuck!" And, a few seconds later, "fuck me!"
I already was. I did. I smacked her bottom, as much of it as I could reach. It was a moving target. And again. And in a few more seconds Amy gasped for breath, and her body shook.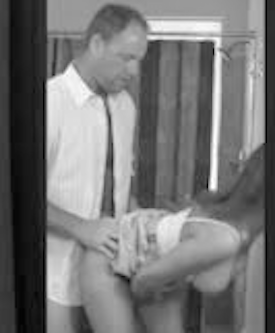 I wrapped my arms round her stomach, holding her tight against me. We came, more or less at the same time. It was hard to be quiet when we came, but we managed.
Eventually I released my grip on her stomach and raised my hands to hold her breasts. Amy tried to turn, to kiss me, but at that moment I wasn't going to let her move. 
I smacked her bottom again. I said, "Yeah, girl. You are not to- Look, just no fucking fucking art critics."