Jennifer, released after the first half of her skippering, looked at her panties, and considered how they'd feel on her glowing red bottom. She'd asked me for permission not to put them back on.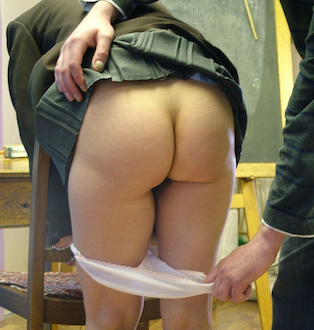 I considered some options, including putting them on her myself, with smacks for any fuss she made. But she'd just come so beautifully, bent over my desk, and as far as I was concerned she could do no wrong, and she must come to no harm. So I said, "I suppose that's all right, Jennifer. After this skippering, I don't think you'll be wanting to flash anyone, not for a few days at least."
"Oh sir, never again. Believe me."
She reached for her blazer and put in on, dropping the panties into the left pocket.
We looked at each other. Jennifer broke the moment, running at me and kissing me. I kissed her back, gravely, one hand in her hair. With my other hand I lifted her skirt at the back and rubbed her bottom, her skin hot under my hand. She kissed me again, softly, thoughtfully, while I stroked her. But after a few seconds I gently disengaged her. "You're a good girl. But you'd best go home, now."
I pushed the button on my desk phone, and said, "Maddie, make out a taxi chit for Jennifer, and call her a taxi to take her home, right now. And when you've done that, come in and bring me my notes on the swimming pool."
I turned to Jennifer. "Girl, you will wait in Maddie's office now, until the taxi arrives. Go to the taxi when it arrives. You'll see it, through the window. Tell the driver to take you straight home, and give him the taxi chit when you leave. That's it for now. I'll see you back here after school tomorrow. Why is that?"
"Because you're going to give me the rest of my skippering, sir."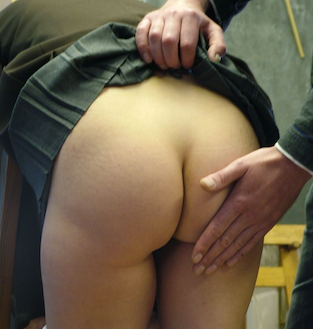 "That's right, Jennifer." I lifted her skirt again. "Eighteen strokes. So you'd best make sure you behave yourself all day, tomorrow, hadn't you?"
"Oh, sir. I don't want any more strokes. Eighteen will be…" She smiled at me. "Enough to be going on with. I'll be soooo good, all day. Sir."
"You respond well to discipline, Jennifer. You really do need it, don't you?"
She touched her bottom, then quickly took her hands away, remembering that she wasn't allowed to comfort herself. "Yes, sir, it seems I do. Thank you, sir."
I held the door for her, and she stepped into Maddie's domain.
In a few minutes Maddie arrived in my office. She had papers with her, though she was only carrying them as a show, for Jennifer's sake. She dropped them on the chair, and, without a word dropped her skirt and undid her blouse, bending over the warm part of the desk where Jennifer had just lain. 
I condomed up and entered her, taking the higher, tighter orifice, since I couldn't give her the slippering I felt she needed, or I needed to give her. Jennifer was not to know that Maddie was subject to discipline as well. Not yet.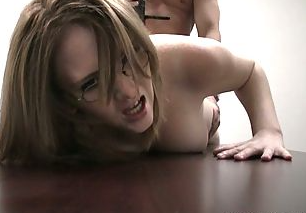 Maddie took me in silence, aware of Jennifer just a wall away, until she grunted at one thrust that also lurched the desk forward. I reached under her and stroked her pussy. I wanted to take my time, but the sounds Maddie had heard from her office had made her as aroused as I was, and we lasted only a few minutes. We struggled to stay silent while we came.
Later, we heard the taxi honk and Jennifer sing out a "Bye, sir!" We went to the stock room. I pulled out the spare mattress, some blankets and pillows and we lay together fondly, Maddie and I.