Sir, the cane in his hand, said, "All right Lucy. Now bend over the desk. Good girl."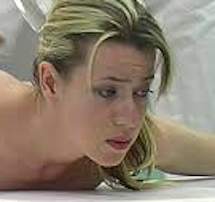 I watched Lucy, her eyes fixed on mine as she bent lower, her lovely breasts descending, and then flattening as her body touched the table. Now I could only see her back, and the upper slopes of her bottom.
"Put your hands under your Mistress's thighs. Good. Hold her, and don't let go or you'll get extra. And where does your face go?"
"In Mistress's pussy? Sir?"
"Clever girl. Bend a little tighter now, so you can reach." Lucy wriggled forward. I felt her hair against my thighs, and then her nose and mouth.
But I'm going to have to cut here, though. This has been published and my publishers don't want free competition from me. You can read it here.