I watched while Jennifer crawled to the cupboard, and opened it. It was a cornucopia, for her, of instruments and devices meant to restrain her, to constrict her and to cause her pain. They told her about her future. Her eyes were wide open. She made no sound.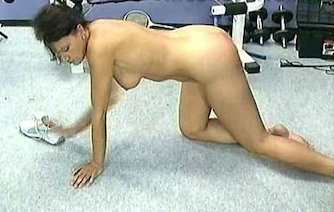 Her mouth was open too, but she was fascinated rather than frightened. She was a girl who'd admitted she needed discipline and direction, and these items were for just that. She found the slipper and reached for it. She held it in her hand, and looked at me; crawling on hands and knees back to me would be awkward.
I said, as if I was annoyed with her, "Hold it in your mouth, girl! And come here!"
I sat back in the chair where she'd had the first half of her spanking. Jennifer crawled towards me. Her eyes were blank; she was focussed within herself. I think she was lost in this new reality, where strange, painful but sexual things happened, and she could neither predict nor choose what they would be. That was terrible, and it was hot.
I took the slipper from her mouth and caressed her hair with my hand, as though she were a cat, or dog. I said, "Still on your knees, but upright girl. Up!"
Jennifer straightened her back. I brushed hair away from her face with my fingers. "How are you doing? I know your bottom hurts. It's meant to, I'm afraid, and you deserve it. But are you all right? Emotionally?"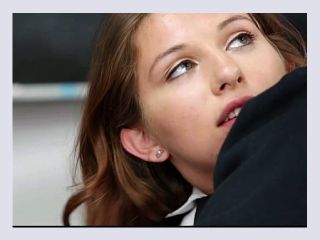 "Sir, that was terrible. Awful." But her eyes were clear, and she didn't seem to feel that 'awful' was such a bad thing. "I know I deserved it, sir. And I want to clean the slate. I was behaving… very badly. But it huuurt. It still hurts. And I'm afraid of what comes next. The slipper's going to hurt even more, isn't it?"
"Yes. It stings like fire, I'm afraid, Jennifer. It can raise blisters on your bottom. Literally. But you don't get as many strokes.  I think two dozen will finish this. Perhaps more, if you don't keep still for me."
"I'll try, sir. But it's so hard not to try to get away. You spank very hard, sir. If the slipper's worse than your hand, I may go out of my mind."
I reached down to the kneeling girl, and drew her in for a hug. "You're going to learn, little one, that a sore bottom motivates good behaviour and deters you from bad. No matter how much it hurts, it happens because I care about you, and your well-being."
She looked down, her hair falling over her face. I brushed it away. "I know you care about me, sir. I can feel that even when it hurts so much I think I can't bear it."
"Well, this won't be the last time I make your bottom sore. And you'll learn something else, which is that getting a sore bottom, when you deserve one, isn't the end of the world. Girls have been getting spankings for thousands of years, and yet there are still girls."
She frowned at that, and her brow cleared when she realised I knew I was talking nonsense. She smiled, and wriggled forwards in my arms to kiss my neck.  "Well, I'm only one girl. Am I going to get thousands of spankings in one year?"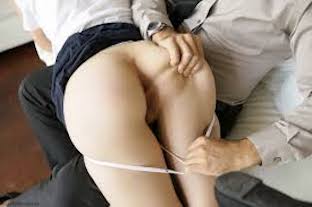 "Well, thousands means plural. Two thousand spankings would mean I have to spank you six times a day, every day."
"That's silly, sir!"
"Oh? Silly?" My voice suggested that she might be on dangerous ground.
"Of course. You'd only have to spank me five point four-seven times a day. Five and a half spankings, with rounding up."
I laughed, and then she joined in, giggling at her own silliness. "All right, Jennifer. It's time, girl. Kiss the slipper." I held it to her lips. She kissed the rubber side warily. "Good girl. Now get over my lap, bottom up, head down, and ask me nicely to slipper you hard. Without mercy, even if your bottom blisters."
The corners of her mouth fell. She remembered where she was, and that she would be crying again, like a baby, all too soon. But she placed herself lithely over my knee. This time she held my shin with both hands to steady herself, and her thighs were a little open, all primness forgotten. Her little pussy pouted at me, damp and plump from her own arousal, in that softest valley between her buttocks and her thighs. I sighed at the beauty of it, and of Jennifer.