The most miserable experience of my life was because of bdsm. I was twenty-two, and I was very deeply in love with a woman I admired, respected, who was beautiful, who shared my political passions, whose virginity I'd taken. She'd been eighteen, and she hadn't told me. I'd been nineteen, and I didn't know enough to realise. 
Later, when she told me, I was flattered that I'd been her choice, and sorry I hadn't made more fuss. She should have had more cunnilingus, and afterwards a cake with a candle. Anyway, it was done.
But there was a problem. My deepest and most satisfying sexual thoughts, and all of my fantasies, involved bdsm, and me being a dom. I don't think the word existed at the time.
But in my sexual dreams I commanded, fastened, spanked and flogged. I guided, I rewarded and punished, and I took.
That was what I wanted, from a willing partner having fun.
It always had been what I wanted. I'd known it since I was four, long before I was sexually focussed, let alone sexually active.
But she thought that that sort of sex wasn't just not for her; it was evil.
She'd read Andrea Dworkin and Robin Morgan on bdsm, and so she "knew" that. There could be no such thing as ethical, or even consensual, bdsm.
I'd mentioned it once, and on seeing her reaction, I gave up. I thought it was a pity. I loved her so much I wanted to be with her forever. and that meant I'd have to bury my bdsm. Lose it. Forget about it. Cut it off me.
Of course, sexual desires and needs don't go away. Sometimes it'd be too much, and when she was absent I'd have my fantasies and masturbate. The miserable thing happened because we were staying with her parents, and moments alone just didn't happen.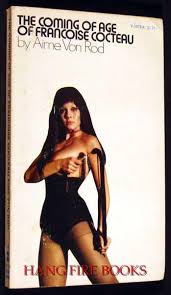 Eventually, the desires got too much, and I took a book I liked ("The Coming of Age of Françoise Cocteau", which I'd expected to be more stylish, though the flagellation scenes were hot) to a local park, overlooking the sea.
It was twilight cold, and no one seemed to be there, and no one was likely to come to the park at that hour. I found a place among the trees, partly sheltered by a rock, and masturbated. But I felt desolate. I was in love with a girl who loved me, and I was still utterly isolated. Part of me was disgusting to her. All of me, just then, would be disgusting to anyone who saw me.  
So I was in tears, streaming down my face, before I came, and after. Body fluids everywhere.
That's it. That's the experience. I cleaned myself up, binned the tissues, waited a while for the onshore breeze to remove the smell from my body, and trudged home. Despising myself.
 But here's the thing. She left me the next year, because in the feminist circles she was moving in it was wrong to have a boyfriend at all: sleeping with the enemy, and withholding wimminlovingenergy from other women, that's what loving me was. Eventually it got too much and she moved in with women from the sisterhood. I was collateral damage. 
It was not the happiest time of my life.
But humans, thank fuck, are fickle, and after a mourning period I noticed that a man who'd been with one woman for four years, despite a roving eye, was a subject of sexual interest from other women. I had opportunities, and I started taking them. The second significant girlfriend I had wanted me to spank her. We explored further, and I found that I loved spanking her, and I loved what happened when we went further, too.
I moved to another city when I finished my degree, and found that my very next girlfriend wanted to be spanked and commanded too. So I'd met and bedded two women in a row who were submissive, when I hadn't even included that in my selection criteria. I realised that my life wasn't going to be as miserable as I'd expected. Instead life set about being fun and bringing me joy. I learned that a male dom is not short of women who want male doms, so long as those doms behave themselves like gentle men.
Anyway, that's my message to baby-doms. The term "baby-doms" isn't meant to be dismissive. It's derived from "baby-dykes", who are among the most charming people on the planet, even if they don't want to have sex with me.
Babyhood is a time of infinite potential. Baby-doms are people whose experience of bdsm is in its infancy, who are just starting out, and who have, perhaps, only recently become aware of their desires. Don't despair. Life can go hard on "perverts", and so can your own mind.
Keep your code of ethics, try to do the right thing, and persevere.
There's nothing wrong with being a dom, so long as you obey the same rules about consent and avoiding force or manipulation that people expect in other kinds of sex. A lot of people are submissive, and they are looking for you, or someone like you.
Life gave me some miserable times because I'm a dom, but it also gave me the most wonderful experiences and times I've ever had. Those outweigh the bad times by a factor of, I'm not sure, but at least a hundred to one. I'd never give up being a dom, now, even if the thing were possible.     
So, be hopeful and of good cheer. Life offers paths to doms, to fit their sexual "kink" into a good, ethical life, with lots and lots of incredibly hot sex and love.