"Good girl," I said, when Maddie had come, and calmed.
I smacked her bottom affectionately as I walked into the kitchen to pour myself a glass of wine. When I returned I tipped her back onto her ass, so her head was the highest part of her body, and she shuffled forward to take up her position between my knees.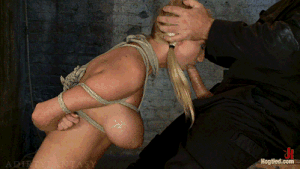 I removed her gag, and turned her vibrator off for the time being. Still hogtied, she lowered her mouth onto my cock. Once I was held wetly, warmly in Maddie's mouth, and she had closed her eyes to concentrate on following my movements, I edged forward a little to make her take me deeper. 
I pulled my belt out of its loops, running it behind her neck, holding the ends in my hands. Then I pulled her in close so my cock filled her and there was no gasping for breath, only the build-up of saliva that spilled wen I relaxed the tension and she could move her head back and gasp a breath.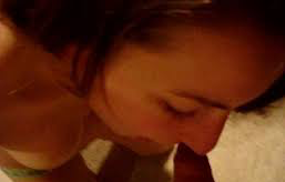 She was never really uncomfortable, because I generally allowed her a breath every thirty seconds or so, but she felt the loss of control deeply, throughout her body. It moved her that the moments when she could snatch a breath were at my discretion and not hers. Details always affected her.
The relationship between master and slave hangs on the details, a long sequence of details, and the Master had best pay close attention to them, because his slave will.
Eventually she brought me to orgasm, swallowing as I came. I finished my glass while Maddie, who would have no wine, licked and sucked at my cock. When I was soft, and cleaned by her tongue, I removed the vibrator and untied her.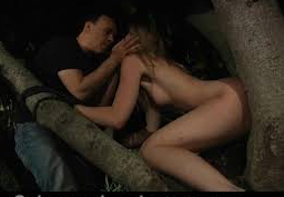 I pulled Maddie over my lap and spanked her long and hard, as a reward, until she wriggled in the way that said she was close to coming, and she wanted me to know that. I let my hand stray between her buttocks and stroke her cunt, until she gurgled, struggled and then came again. 
Usually Maddie had things to say after a spanking-and-orgasm, but that night she was simply affectionate and silent, as I helped her turn around so she sat on my lap, held in my arms, having her hair and brow kissed.  
At last we showered together, and afterwards I knelt and put soothing lotion on her knees. And we went to bed. Maddie lay on her side, her ass pressed against me, in case I woke up wanting it. I expected I would. I put my arm over her and cupped a breast in my hand. She muttered something incoherent, sometimes, while she slept.