I didn't really make any decisions. I'd assumed that I was going to break off and do other things before I came. I'd thought that while I striped her ass with that rod I'd stand where she could turn her head and watch my erection, and then feel it inside her, when her skin was still hot and hurting and I fucked her.
But then I felt the urgency of that sensation at the base of my spine, or somewhere deeper, made up of sugar and need. I dropped the rod and put both hands on Sa'afia's head. The rod bounced and rebounded on the hard floor, but I'd forgotten it while it was still making its racket. I was supposed to growl something at her, threatening to punish her if she didn't swallow every drop. But that had never been something that I really cared about, and anyway I didn't have time.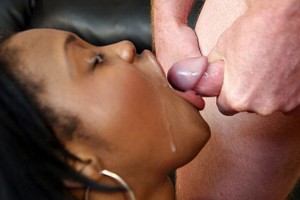 Instead, looking down on the black shine of Sa'afia's hair and the warm brown of her shoulders, my eyes wide as a cat's at twilight, I made incoherent noises, gutteral at first but higher pitched with the rush into Sa'afia's mouth.
Sa'afia coughed once, and then swallowed and kept swallowing.
I said, "good girl good girl good girl good girl," over and over, while my body took over. I came in my Sa'afia. My? Well, perhaps she was.
I was laughing, towards the end, because of happiness, pleasure and awareness of how ridiculous we were, but mainly me. I mostly enjoy being ridiculous.