So she said, "There are dykes who'll do you. They'll bring you off with their hands, they'll lick you till you come. Or they might put their knee, yeah, there. And kind of pulse you while they squeeze your, uh, breasts."
"And that knee thing would get you off, would it?"
"Um… It has done. No, stop it! I'm trying to tell you something. Anyway, they're stone cold dykes because they don't let you touch them. They get your clothes off and they get you off, but they keep their clothes on and you don't do anything to them, and they don't come. Not with you, I mean me."
"Well, that's not me. Here. I've got my clothes off, I don't know if you noticed…"
"Yeah, but -"
"And I haven't got any come left …"
"Yeah, but -"
"It's all in you."
"Idiot. Silly man. Oh. Ah-huh. There might be a bit more, you know." I leaned back and let her stroke her handful of soft cock. She was right. It wasn't completely soft any more. "Okay, but you came in me because you fucked me. That's physiology. But I didn't get to fuck you; you never let me. You controlled me – that was interesting, by the way; that was good. I loved it. But I never controlled you. I lost it completely, I don't think I knew the bed was here, I don't think I even knew who I was. But you didn't lose it at all, ever. You were completely in control of yourself. You stayed cold. You see?"
"Well, maybe. but I like being in charge. That's sexy, for me. So of course I was getting off." 
"Yes. Up to a point." My cock stirred, and staggered upright, just able to lift its own weight, as she said that. So she gave her attention to stroking it, and repeated, "up to a point", over and over. I relaxed and let her, but eventually, half hard, I took her hand and stopped her.
She smiled, as if she'd won her point. "See what I mean? You have to stay in control. It's okay. It's just … I can't see how you can have as good a time as I'm having."
"Like this. Suck my cock."
"Just like that? That's not a very romantic thing to say."
"Suck my cock right now, or I'll spank you till your arse is the colour of a stop sign."
"I didn't really like it, much, when you spanked me."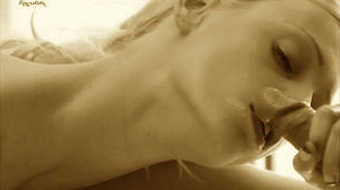 "Then if you don't want another spanking, you'd better…" And her mouth, warm and moist and sweetly soft, enveloped my cock. "Ahhh." I wouldn't have spanked her, since she hadn't given me permission to do things she didn't like. But I did know that she liked to be ordered to do things.
So I made myself comfortable, pushing a little deeper and resting one hand on the back of her head, exactly because a gentleman doesn't do that. Because I guessed she'd like me not to be a gentleman. I thought, as her head bobbed steadily, that I'd won something, though not necessarily the argument.