As I've mentioned, Svitlana turned out not to like being spanked all that much, though she gave it a fair trial. But she liked other things. She liked having her nipples ill-treated. At first I did the nipple mistreatment with my fingers.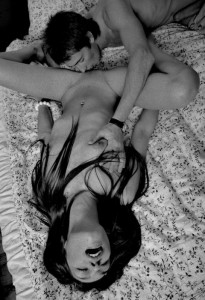 But later, I had her hands tied to the end of the bed, and her ankles held apart by a spreader bar, and I attached a pair of nipple clamps to her breasts, because I needed my hands to hold under her bottom while I lifted and licked her. 
I'm not going to write about most of that night, because it was just sex. We said very little during it. I don't think that we thought much, either. I know I didn't. So there's not so much to say about it, except that it was good. It was a gold and silver night, honey and lightning. 
So we were tired when we collapsed, some time that was more like morning than it was night.
We lay together comfortably, satisfied with each other. And Svitlana mused, "You're like a stone cold lesbian."
And I said, "I have no idea what that means, but I bet I'm not."
So we're back to the beginning, the point where I started this story. It does continue.