Dorabella dropped her eyes from eyes from Raylene's cunt when she saw I was looking at her. She told me, "She's very turned on." As though she'd been making scientific observations.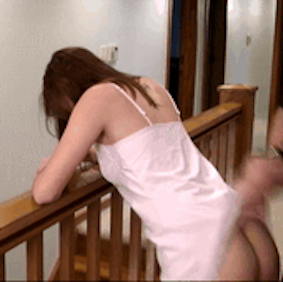 I stepped beside her, and pulled her dressing gown up, to hold her left buttock. Round she was, and firm, and her skin cooler than Raylene's ass, for obvious reasons. I said, "You were ogling."
She smiled, as if pityingly, and shook her head. So I slapped her bottom, where I'd been holding. Not hard, but not a pat. It was an experiment. My hand settled back on smoothly round skin, and rode the rapids while she rocked her hips, forward and back. She turned to look at me, so I kissed her.
After a while she drew back and opened her mouth. Then she thought better of whatever she'd been going to say, and closed it.
I tried not to look triumphant. She said, "Smug bastard."
I rubbed her ass to remind her that my hand was still there. She looked worried, then comfortable when it appeared that I wasn't going to smack her again. After all, having her ass rubbed isn't such a bad thing.
Still, Dorabella had been enjoying the sight of her sister's arousal. I didn't know why Dorabella and Raylene seemed to be so close sexually. In those threesomes they did together, I was sure they both concentrated on the male guest and didn't do anything with each other, but still…
Dorabella was het; so am I. But no matter how much I wanted to please a woman, I wouldn't bring another guy into bed with us. I'd be happy for her to enjoy herself with two other guys, but I wouldn't want to be there myself.
It's just more intimacy than I'd want to have with any guy. Let alone one of my brothers. The awkwardness would more than cancel out any sexiness.
That's just me; I'm het to an almost embarrassing extent. But so was Dorabella, so why would she join her sister and me in bed?
I didn't know, but there were some things I had worked out. I was so sexually popular in that house just then mainly because of Dorabella. The night she'd taken me to her bed she'd had a good time. So had I. I never fully understood why she'd left something so good after just one night.
Though I suspected it was partly because of the domming thing. She'd asked me about it because she knew other women I'd had sex with. Bdsm was part of my sexual reputation, for good or ill. She'd accepted it when I told her about it, and she she didn't think it was wrong or anything. But it wasn't for her. A bit later a previous boyfriend who'd changed his mind and wanted to come back turned up, and Dorabella had given him another chance.
When I'd told her I was writing a piece about the boot boys, she'd mentioned Raylene's time with them, and said she'd ask her if she wanted to talk to me about it. When the two of them talked, Dorabella would have given me a good sexual review. And mentioned bdsm. That had to be why Raylene had steered things into a sexual direction so fast, and given me cues that had led us to this point.
I'd thought I'd been pushing her towards submission but she'd been driving things too. She was quite strongly submissive, and as submissives will, she'd got what she wanted. All I'd had to do was turn up, not be too much of a creep and keep my nerve, and here I was, being addressed as "master".
That's one of the good things about having a reputation as a kinky man. It has its downsides, but the caution, "look out! he might want to push you round, hold you down and smack your helpless little arse" also works as advertising. The female half of my circle of friends all knew that about me, some from direct experience and some from gossip, and being out to that limited extent had never done me any harm.
Raylene had tested and found that I was as advertised. So here she was, doing as she was told, waiting for the cane, in her bedroom. 
While I had my hand on her sister's ass.