The previous episode is here. 
Sir had said I was going to enjoy helping him to give Lucy her first caning. I felt a little guilty about that because Lucy was only going to get the cane because she'd been told to hold me down, and I'd deliberately got up, just to get her into trouble. I planned to start disciplining Lucy myself, soon, but I didn't want to hurt her just now. So I said, "Sir?"  
"Maddie, I want you to sit on my desk."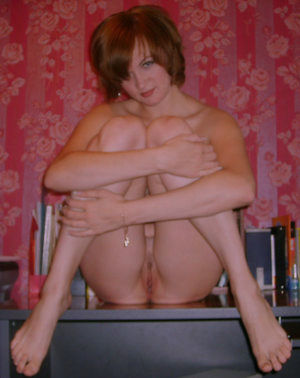 "Yes, Sir." I rested my bottom on his desk and swung my legs. "No, not perch on my desk. I want you to get right up on top. And right over to the other side of the desk." 
"Ok, sir."
And I clambered up, aware of both Lucy and Sir watching me. So I sat in the middle, my knees up, arms over my knees, looking at them. 
"Good girl. Now skootch a little further back. So you're on the far side of the desk. When my chair is." 
I skootched. His desk was oak. The wood was so hard and cold, under my bottom and thighs. "Sir?" 
"Good girl. Now spread your knees, wide apart as you can. Good. What do you think, Lucy?"
Lucy stood beside Sir. Her thighs were trembling. She said, "She – Mistress. She looks very hot, Sir."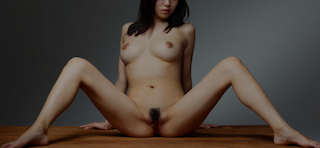 Sir put his arms round Lucy and turned hewr to face him. He cuddled her, and whispered, "Don't be afraid, Lucy. The cane hurts, but you've known it was going to be part of your life since this morning, haven't you?"
"Y-yes, Sir. I have. But I'm still afraid." She leaned in against him, put her arms round him. I knew how lovely and luscious Lucy felt. I wished it was me, in her arms. 
"Lucy, what you're afraid of, lovely little one, is mostly the unknown. All the terrors of your imagination. You'll find this is going to sting, and it'll mark for you a few days. But it's not as terrifying as you think. You've got Maddie to thank, for you being just about to get your first caning. You know that, don't you."
"Sir! I let her get up when you told me to hold her down. I failed, Sir."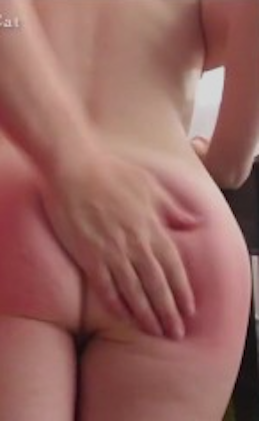 Sir smiled and smacked Lucy's bottom lightly, then let his hand stay there, squeezing. Lucy wriggled.
"Yes, but she got up, Lucy, darling. She wanted you to get the cane today. She was turned on and she wanted to watch you be punished too. But she also did you a good turn. It's better to get the cane early, than to fear it and let the fear build up until it becomes something terrible. So I want you to turn now, and thank your Mistress for getting you caned."
"Sir!?" Lucy sounded shocked. Then she thought, and nodded. She looked at me. Her tongue came out and wet her lips. I felt it in my cunt, when she did that.
Lucy swallowed, then spoke firmly. "Maddie. Mistress, thank you for making sure I got the cane today. It is better if I don't have to wait. So thank you."
Sir smacked Lucy's bottom again. A little harder, leaving a pink print this time. But he said, "That's good, Lucy. Well done."
Lucy smiled and cuddled in again, her breasts heavy and so pale, crushed against his jacket. Sir kissed her forehead, then looked at me. "Good girl, Maddie. Now lean back. Put your hands on the edge of the desk, behind you. And push your pussy forward a little. No, more. That's good. Don't move out of that position until I say."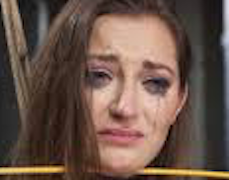 He stepped back from Lucy, then picked up the cane again. She was being brave, but now her caning was about to happen I could see tears glistening in her eyes. He whispered something to her. I couldn't catch it but it was loving, encouraging.
He held the cane under her chin, to lift her head. Then he touched it to her mouth, and she kissed it. Slowly, almost reverently.