[Welcome to E[lust] readers. This post collects four scenes from a night in the bedroom of a woman called Sa'afia.] 
1
 Sa'afia lay long and strong across my knee. She wasn't being spanked. She expected to be, since she'd asked so sweetly to be punished. I couldn't remember what it was that I was supposed to be punishing her for. It didn't matter because I knew Sa'afia didn't remember either, and she wasn't going to ask me. Anyway, if she asked I'd make something up and punish her for forgetting.
Sa'afia wasn't a remotely silly or gullible person, but in that moment she believed that I knew everything important about what was happening. I was in charge, and all was well in the world because I cared for her and I was just. 
She could feel that way because it was a sexy thing to think, and because she could rationally know that I'd do nothing to shatter that faith.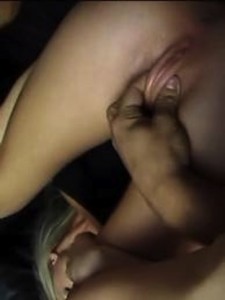 Her ass was raised a little, not to invite the spanking she expected but because I had the lips of her cunt held firmly between my right thumb and forefinger. I had to hold and squeeze very hard, because she was very wet. She was getting wetter, demanding a tighter grip. Her buttocks trembled slightly, with the effort she put into being still.
She'd drawn in her breath and was still holding it because a few seconds ago I had twisted her lips hard to the right, as if they were a key, before relaxing back to vertical. She was expecting me to twist her again. She was not wrong. 
2
Sa'afia had put her wrists together behind her back. I'd told her to. She liked obeying very easy orders. I'd wrapped two old silk ties – nice fabric but an unfashionable cut, so they were only good for low-budget bondage – round both wrists, then round each wrist, with a non-slip knot. I took the long ends and slipped them down between her buttocks, then between her thighs, pulling them tight against her cunt.
Sa'afia had pressed and rubbed the silk, breathing hard, until the ties disappeared between plump lips. I'd smacked her bottom as a kind of reward, and told her to get her ass up. While she complied, making a rounded tripod of her chest and her parted knees, with her ass at the apex, I'd run the ties under her.
I knotted the two ties just below the nub of her clitoris, so she could press against that nice hard gathering of silk. The knot allowed me to separate the two ties, so each came back up a different hip. Then I tied the ends to her wrists. Her movement wasn't much restricted, apart from her arms and hands, but she could turn any move of her ass or any micro-movement of her wrists to pleasure. 
The moment at which this memory  is centred, like a still from a movie, is when her fingers felt for mine while I tied the silken ends together.
The silk, where it re-appeared below her cunt, was already wet. She smelled of arousal, and cocoanut oil and soap and spices. Our fingers touched. She had turned her head so her eyes were on me. I amused her, I think, just then, but she didn't smile. 
3
Sa'afia lay on her belly, hands still tied, cunt still stressed, just inside her lips, by two tight strips of soaked silk. I had three fingers in that silk-lined and sensitive cunt, while with my other hand I spanked her, quite hard, in time with the movement of her hips. Her bottom rose to meet my hand, and fell again, freshly stung, to stretch the silk and press herself onto that glistening knot just below her clitoris.
She was working on her orgasm, and we both knew that she was one movement, or at most three or four, from going over. Her breathing was fierce and fast.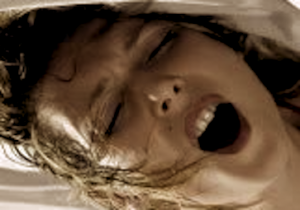 But the instant I remember is just before she came. She looked up at me, washed in sweat, and there was terror in her eyes. The orgasm she was building was too big. It was like surfing and finding, just as the wave was going to break, that it was as high as an office block.  
When I saw her fear I'd said to her something like, "I'm holding you, love. You'll be fine."
After I'd spoken, Sa'afia screamed and came. Not because of what I'd said. But she screamed again, and her contractions felt like they were going to break my fingers.
But the vivid memory isn't her orgasm. it's that look of fear and amazement at her own sensations, and her nervousness about letting go as hard as she wanted to.
4 
Sa'afia  lay across her bed, her arms and legs spreadeagled. I'd tied her wrists and ankles to the legs. I don't think she'd been thinking about bondage, when she'd bought her bed. Perhaps she'd thought about it since, alone in the dark sometimes. Now it was happening.
When I'm introducing someone to submission, I don't usually have a plan beforehand. I pretend there's an agenda, but mostly I just have a few ideas to fall back on if I lose the flow. I try a direction and see what she responds to, and watch the responses. Submissive responses are sexy and beautiful in their own right, and they show where I should go next.
The rod was one of our fixed points. I'd promised Sa'afia she'd get a thrashing with that polished wooden stick she'd shown me, and it had to happen. She could tell herself, amazed, that she was being bound and flogged, and that afterwards she'd have to suck the cock of the man who'd flogged her, while her ass still throbbed. I'd tied her more to let her feel the ropes on her body than to keep her in place. She didn't need to be tied, but it made her wet.   
I striped her buttocks and upper thighs with the rod, hard enough to hurt her, but  taking my time, until we'd not only lost count of the number of strokes but also the number of minutes. Sa'afia made her little noises of pain and concentration. Her ass was already well striped, with some of the red lines raised a little into welts. Her skin was hot to the touch. I'd been flogging her thighs, and it was time to re-visit those lines across her buttocks.
I raised the rod, admiring her ass, and raised the ante. It was time to go harder. Sa'afia was comfortable, and we were going to go a little further.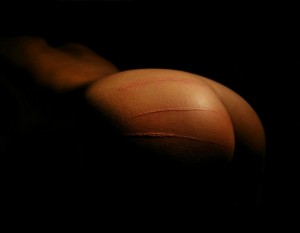 I knew she'd moan at the next stroke, and that a second after the rod had landed across her bottom the pain would turn to something floaty and sexual. As a dom, I'll only ever know that state of mind by imagination. I watched her, reading her sensations. I couldn't go to that place myself, but it felt good to take her there. 
That's the memory: my certainty that Sa'afia was flying. We were in tune together.
[If you're interested in the rest of this story – it's very long, and not over yet – click on the category "The Probation Officer's Tale" and all the relevant posts will appear.]