Raylene had just just been told her caning would double if she disobeyed me again. I'd liked her reaction, so I tried to extend it. Stretch it out like a Jaime Mortimer story. "So you're going to start doing as you're told, Raylene?"
"Yes, master. And … thank you. For letting me off with just a warning."
Raylene was in what had already become her element. Sex is best complicated, but happiness is best simple. She was happy.
I thought I might be able to spread some of that happiness around. I took the other, heavier cane, and passed it to Dorabella. "Hold that, please, in the meantime, Dorabella. And pass it to me when I ask."
Dorabella took the cane, holding ot at the thickest end. She swished it in the air, impressed at the sound it made. I said, "No, Dorabella. You hold it in the middle."
She changed her grip. Then she understood why I'd told her to, and her face flamed red. "Yes…" There was hesitation because she'd had to stop herself falling into Raylene's speech pattern. She wasn't going to call me master. Or sir. Still, it had been a late catch. She compromised. "Yes ok. I can do that."
"Thank you." I patted her bottom lightly, a caress and not a threat, then drew her in close for another kiss. The cane was awkward in her right hand, so she only put her left arm round me. But her body pressed hard against mine, and I grunted with simple animal pleasure when her belly came into contact with my erection.
I mouthed at her, "I want to fuck you. So. Much." She didn't react, just watched me as if there had to be more. So I added, aloud, "And I will. Fuck you. Tomorrow." She nodded: I'd better, if I knew what was good for me. It seemed that Raylene agreed.
I wondered what had happened to Dorabella's erratic boyfriend. He must have annoyed her enough for her to dump him, or else he'd left her. Either way, the man was a moron. But his departure was one reason why she was back wanting me. Also, she'd had more time to think about the bdsm, and not be shocked by it any more. That, along with Raylene's obvious enjoyment, was apparently intriguing. And it'd released the competitive thing she and Raylene had going.
I put both hands on her ass, so she could feel the slender cane in my hand touching her, pressing against her right flank and down the back of her leg. We held each other firmly. Dorabella stepped even closer, placing her feet outside mine. She wasn't as mischievous and manipulative as Raylene, not quite, but the two of them did have equally perfect asses.
But this was as sexual as Dorabella and I could be for now, because today was Raylene's. Though Raylene would have been perfectly happy with Dorabella as our bed guest, and even happier if we managed to bring Lynette in. With Lynette she'd be fucked by two people at once, which wouldn't happen with Dorabella.
Me, I'd committed to doing what I could to assist Raylene's Lynette project. But I'd prefer to have Raylene to myself for a day first.
Anyway, it seemed a shame that Lynette didn't seem to be coming. I'd thought that Raylene had done a formidable job of enticing her this morning, and that she and I had made some progress away from loathing and towards sexual interest. Raylene had been sure that watching her ass dancing while I caned her would have brought Lynette into our bed as soon as possible. I'd have insisted that it not be before tomorrow morning. Lynette would have set her alarm clock.
On the other hand, time had passed and Lynette wasn't here. I applied a final luxurious squeeze to Dorabella's ass and let her go, the robe sliding back to cover her.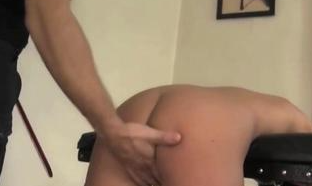 I took a step forward and touched Raylene's hip with the cane, then slid it over her skin until it pressed across her buttocks. I tapped the target a little harder, just above the crease of her buttocks and thighs, and Raylene's left hand, the one I could see, tightened its grip on the table-leg.
I stroked her, my fingers entering her cunt for the first time in a while, to remind her how much she needed to be fucked. She kept her head down, but her ass dropped to meet my hand. She whimpered with pure desire and need. 
"Sorry, Raylene love, we're a guest short. Pity. But we'll begin now anyway."