Jennifer heard me sigh. She knew I was appreciating the view she was giving me, over my lap. And she remembered why she was in that place. She said, "Please sir, please give me the slipper. Hard. Don't show me any mercy, even if it blisters my bottom."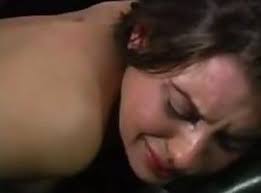 Her voice was shaky, high-pitched, on 'blisters my bottom'. She found that was a scary thought.
In reality I wasn't going to raise any blisters, not on a first slippering. But a little fear would do her no harm. I said, "Good girl. You asked very nicely. And of course I shall."
I placed the slipper on the crown of her left buttock, so she knew where the next wave of pain would arrive.
Then I raised it, drawing it up over my shoulder. Jennifer said, "Oooh," when the slipper was gone. I let her wait while I counted, slowly, to five. Then I swept the slipper down, landing on her bottom with a solid, rubber on skin impact. The sound was louder than a pistol shot. Jennifer screamed, and her body stiffened.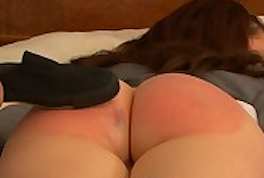 I watched her fight for control, and brought the slipper down again. Both cheeks were showing a slipper-shaped mark, blossoming to a deeper red than the marks left by my hand.
Jennifer writhed and screamed and cried, her arms and legs flailing, while I held her in place and continued.
After the first six I concentrated on the softer skin of her lower bottom, and the volume and urgency of her cries escalated. I gave her the eleventh and twelfth strokes on the backs of her thighs, sending her frantic. She was weeping copiously, and the tears flew in the air as she wildly bobbed and shook her head.
I stopped after the twelfth stroke. "You're halfway done, Jennifer, girl." If she heard me she gave no sign, still writhing, kicking and bawling. I said, "Settle down, Jennifer. I'm allowing you this time to recover yourself. But you will be quiet and behave yourself." Still no difference.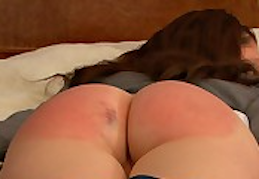 I let my voice become harder. "You lie still and keep quiet right now, Jennifer, or I'll give you extra!"
That worked magic. She put her legs together and pressed her thighs down, over mine. She pressed her fingers on the carpet and pushed herself back a little, so her bottom was again in perfect position for me.
And she stopped her wailing, though the tears still flowed.
"Good girl," I said. "Now, you have another dozen with the slipper to go. Plus six penalty strokes. Would you rather have them now, or come back to my office tomorrow to take them then?"
Jennifer froze. For a long time she said nothing.