The previous episode of Maddie's story is here.
Maddie's been waiting in the wings, biting her tongue, for seven weeks now, while I told a different story, that Didn't Have Her In It!
But she's a girl who gets what she wants, and she's back. 
The background to this story is that Maddie's lying in the storeroom, in warm afterfuck with her employer, the headmaster of the school where she works. And she's telling him about her own adventures when she was at school. She wants her story to encourage him to look after a girl, Jennifer Perch. He's disciplined Jennifer, and it's clear to Maddie that Jennifer wants her headmaster, and that she should get him. 
In the story Maddie's been telling, she'd just been caned, naked, in her own headmaster's office. She'd got her twelve strokes while held down between the deliciously plump thighs of a new girl, Lucy. And Maddie had discovered that she's capable of lust and maybe love for a girl. 
And that afternoon, both Lucy and Maddie are due back in the headmaster's office to be caned, for the first time in her life in Lucy's case, and for the second time that day in Maddie's case. 
And afterwards, the headmaster and Maddie are going to to the headmaster's house together. They're certainly going to have sex. Probably they're going to make love. 
But there's just one thing. The headmaster has said he wants to devote that evening to Maddie. But Maddie wants Lucy to be there. With the help of a superior blow-job she gets the headmaster's permission to invite Lucy to come along, though he says he's not going to do anything sexual with Lucy on Maddie's night. 
Phew! So you're up to date! Now read on… 
Maddie's story
So I made sure that Lucy and I had lunch together. Lucy was a little embarrassed to be speaking with me, at first. That morning, well, I'd watched her get her bottom spanked, and then, when she was holding me down for my caning I'd deliberately got up so that Lucy was going to get punished too, this afternoon. 
But there was something about Lucy: something about the two of us. I wanted her, and she was waking up something in me that I never expected to find. I wanted to rule her, hard, stripe her, make her cry, make her serve me, like my Sir did to me.
And then make her come, over and over, helplessly. Like my Sir did for me too. 
And I don't know how much of that she knew, or how much of it she wanted, but I could see she felt at least some of it. It was in her eyes. And when we ate together she kept finding reasons to touch me. Safe touches, in public, on my wrist, my shoulder. Once on my waist. But we had to be careful. We didn't want to be gossip. 
So I told her to put her hands flat on the table. And she did. She sat quietly, listening while I explained what was happening between Sir and me. I'd been raped by some creep, when I lost my virginity, which I'd wanted Sir to have. And tonight, after he'd caned both us, he was going to take me back to his home, where he'd looked after after I was raped, and he was going to show me what loving sex was like. 
We were neither of us looking at each other while I told her this. There was silence. I looked at Lucy at last. She was blushing so brightly. But her eyes, and her dimples told me she was ok. "And," I said, "I'd like you to be with me."
"What? At the headmaster's? While he fucks you?"
"Yes. He's not going to do anything to you. It's me who wants you to be there. As my… moral support."
Lucy stared at me. "Moral support, it'd be, would it?"
"Immoral support. Anyway, I'd love it if you were with me."
"Do I have to watch? I mean, his arse pumping up and down? And, god, whatever?"
"Lucy. I'm thinking it'll be more romantic than that. And if you don't like his ass, I could always drape a sheet over us." 
"I suppose."
"Or I could be on top, and you can watch my ass instead. Would you like that?" 
"Um?" She dropped her head again. 
"Yes. Yes, you will." 
"You said he's not going to do anything to me. Will you?" 
There's a little room at the back of the school library. I had the key. It's one of the advantages of being a good girl. By reputation.
 I said, "Come on. We're going for a walk. You. With me. Now." 
Lucy stood. My cunt just wrenched, clenched, so hard when she obeyed me. Maybe she'd be my good girl. Oh, drenched.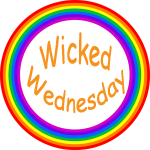 The next episode is here.