John swung the stick, making an audible impact and leaving a vertical fire-line down her left buttock. Lena shook for a second, though she felt it as heat rather than pain, and arched her back. He was right: she felt very beggy. The rod struck again, leaving a streak of fire where it landed, which slowly calmed to warmth and a kind of mental and bodily peace.    
"You know, you have no idea how beautiful you look. And hot." This wasn't quite true. She knew she'd made him hard, and that he liked her current posture, prostrated on her knees, with her head touching the carpet between his feet, beyond reason. She waited for the next stroke, but he grasped her hair and pulled her up so her open mouth was level with his cock. Lena rubbed her forehead against that hardness, through his pants, like a cat claiming a human's hand. He put his hand against the back of her head and held her to him. She waited, and the rod landed again, then again. Lena hissed in breath, then turned to kiss his inner thigh.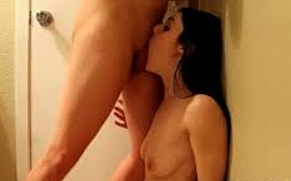 With that kiss, some things became urgent. John unbuckled and unzipped. His cock, finally free, pronged the air in the direction of Lena's nose. She felt his grip tighten on her hair, and he guided her onto his cock. Her lips kissed a soft ring around the head, and he pressed forward. They said, "Hahh," at more or less the same instant.
Her buttocks and hips burned from the stripes he'd given her. The rod he'd used to inflict them brushed her right shoulder when she took him deep, brushing her nipples against the wool of his pants. She knew that he was happy, and so was she: his cock was velvet stretched over steel, and though it tasted only of skin, it was his skin.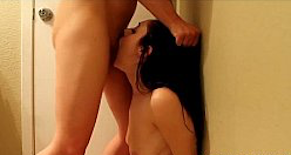 She was sure, though, that she could feel some of the sugared, shaky excitement of his pleasure, through a kind of body reading that comes close to mindreading. She could feel the pleasure that he felt, as well as the heat and joy that came with serving.
She knew she was providing a soft paradise for his cock. He was moving faster in her mouth, loosening his grip on her hair so she had room to move. Her knees hurt a little, and that was good too. She loved serving him, but there was another Lena in her mind, who watched her and considered her, and was excited by the abjectness of her submission. She wished he would bring that rod down again. He was distracted.