I went to Barber of Seville in the Ravenna opera house a couple of years ago. It was off season, but the Ravenna Festival was on, so they put on a student production.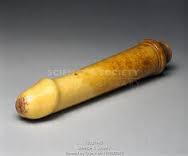 I was going to skip it, but I'd met a woman in an antique shop, where I'd found an old ivory dildo, made in eighteenth century China, probably, and traded into an Italian sailor's hands some time since then.
I didn't have the vocabulary to ask the old man behind the counter what he knew about its provenance. 
But an Italian woman carrying a violin case was looking at old clocks, and she could speak Italian and English. She thought I was mad, so she helped me out. I offered to take her to a cafe, because I was grateful, and she had a nice mouth and eyes, and she looked good in jeans, though a raincoat obscured most of her. But she'd laughed and said I was an obvious pervert, and she was a good girl.
But her tone of voice suggested another try. "Um, but I'm a great admirer of classical musicians. Especially, someone who's as obviously talented a soloist as you." I happened to have passed the Ravenna Festival Hall that morning, where the doors were all closed for a youth orchestra rehearsal. Something told me she wasn't a busker. So I guessed she was a soloist.
She given me dimples, and an enthusiastic "Grazie!" So we went to the Caffe Il Nazionale. I had a glass of pinot grigiot, while she had something with chocolate and ridiculous amounts of cream. She showed me the CD she'd just released.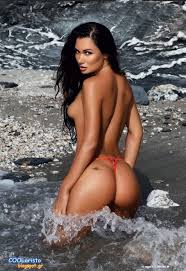 The cover showed a violin abandoned on the beach, and a little further away, her wearing only a thing, about to plunge into the water. I looked at her bum, as seen on disk, and at the more demurely dressed reality of her. She rolled her eyes. "It's the photo Marketing wanted for the cover, if they were going to put it out at all. What can you do?"
So I said, "But you look absolutely  beautiful." Then, since it seemed a little early to pay compliments to her arse, I said, "I mean, now. In this caffe." She rolled her eyes, but there were dimples again. She wasn't displeased. So I risked, "Well, you look pretty good on a windswept beach, too." 
"Windswept! Oh, that shoot was so cold! I was freezing my tits off! I mean, literally. There was no way I was actually going to get in that water." 
"Very wise." I looked at the back of the CD cover, There was another picture of her, wearing a soloist's dress,beaming and holding her violin as if it were a baby. And the track listing. It featured sweet semi-classical music: solo violin arrangements of opera hits, "Nessun Dorma!" and so on. And the first dance theme from the overture to Il Barbiere Di Siviglia, as a duet double-tracked with herself.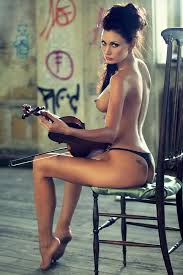 She looked more embarrassed at that than she'd been at her arse. "Look, I'm a serious muso. I wanted to do Shostakovich sonatas. And the Respighi 2. Do you know it?"
"No. I didn't even know Respighi wrote sonatas." 
"He's so underrated. He wrote opera, serious stuff. He's not just some guy who wrote Fountains of Rome."
She had more to say, because the English-speaking world pathetically misunderstood one of the greatest twentieth century composers. Or so she said.
As an English-speaker I was too good a chance to miss: I was going to cop an earful about Respighi's stature. I didn't argue, because I'd heard Il Tramonto and thought it was serious and wonderful, and because you don't get to be a active pervert by ignoring girls with obscure enthusiasms. 
Note
I'm taking a temporary break from the Maddie/Jennifer story, because the next episode is proving hard to write. This story gets steamier as it goes along.