I used the strict-Headmaster voice. "Right, Claire. You've asked for the cane, and now you're going to get it. Good and hard, girl."
Claire looked solemn. It was apparently the first time she'd been in this ritual since she left school. But she remembered its power. "Yes, sir."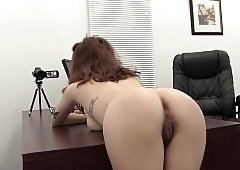 "Bend over my desk, Claire. Hold onto the far edge of the desk. And don't let go or get up, if you value your skin."
Claire scrambled to obey, presenting herself over my desk, breasts flattening onto the leather patch. She reached forward until she could get her fingers holding the far edge.
The position kept her body tautly stretched.
"Good girl. Now put your feet right apart. You don't need modesty, from a man who's going to fuck you shortly. And it gives the cane full access to your body. Deeply."
I meant that when I caned her lower buttocks, the cane would get very close to her pussy lips, possibly reach them. Claire nodded solemnly. She knew what I'd meant. She let her face fall to the desktop, and spread her legs for me, very slowly.  
I said, "Maddie."
"Yes sir?"
"Two ruler strokes for Claire, please. Medium hard."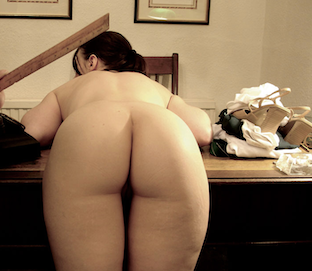 Maddie brightened. Her good luck wasn't necessarily going to be appreciated by Claire, but it was luck, for both of them.
Maddie can move fast when motivated, and in less than three seconds there was the sharp slap of wood on flesh, then another, while Claire gasped. A fourth and fifth band of pinkish red bloomed across Claire's bottom.
"Claire, when I give you an order, you acknowledge it by saying 'Yes, sir.' Understood?"
"Yes, sir. I knew that, sir. I'm sorry."
"Good. And you obey orders quickly. Immediately. That may have stung a bit, Claire, but it was only a warning. The next time you fail to acknowledge an order, or to jump to obey it, I'll make the point with the cane."
"Yes, sir! I am sorry, sir."
"That's better. Now arch your bottom right up. Like you're a cat begging to be fucked. But in this case, like you're begging for the cane. Which in fact you are."