After Roland had stripped and Teresa had removed everything but her corset, he moved behind her to undo it. She said, "No, boy. I'm a vamp. The corset stays."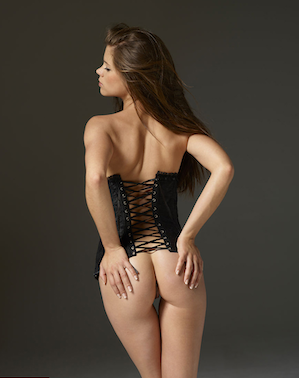 To her surprise he simply smacked her bottom. The slap echoed in the room, and it also echoed faintly in her cunt, as sex. Teresa said, "Hey!"
But he smacked her bottom again. "I want you naked this time. Also, I want you."
She relaxed. He'd already shown his enthusiasm for her corseted self, so it was reasonable. And on the one hand, she didn't want him to smack her bottom again. And on the other hand, she didn't want to tell him to stop smacking her bottom.
Which probably meant that in the meantime she should indulge him. So she turned her back and allowed him to undo and loosen the stays, and when the corset was loose enough she pulled it over her head and off.
She turned to face him, and his face when he was confronted with her naked self was rewarding enough. He said, "You are very, ridiculously, wonderfully beautiful."
He took her left nipple in his mouth, kissing and tonguing it, and lightly grazing it with his teeth. Then he sucked, trying to get as much of her breast into his mouth as he could. Teresa let her mouth fall open. It felt comfortable and right and hot, and there was nothing to say about it.
Teresa put her hands on his arse and stepped close, so her thighs closed on his cock. It wasn't going down, so it had to be somewhere. He repeated his kissing, tonguing and grazing ritual with her right nipple, and then looked at her, pushing a swatch of red-dyed hair out of her eyes. "Bed, I think."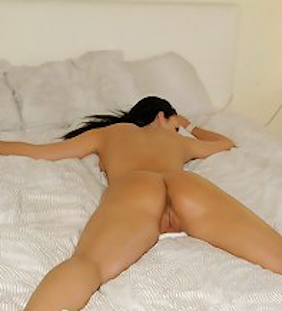 Teresa sat and lay back, and Roland lifted her thighs with his hands and kissed her cunt until she sighed. Then she felt him trail his tongue up to her right nipple, and then back to her cunt until she sighed again, and then up to her left nipple, and back to her cunt.
She squirmed under him while he focussed her attention close to but not quite touching her clitoris. He licked her, long and slow, and she put her hands on the back of his head.
Not to direct him but to show her approval. She enjoyed his attention to her cunt in silence. What corset? But at last he raised his head and stared up at her face. He said, "You should have your wrists tied to the bedheads. If I'm going to fuck you properly. That ok with you?"