The previous episode is here.
I kissed the tip of his cock [Maddie said], and it suddenly bounced up like a live thing that I'd disturbed. He made no sound, but he was shaking just a little, just like I was. I kissed that tip again, letting my lips enfold it. He gasped. So I was doing it right.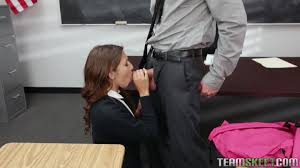 What surprised me was the softness. I mean it was hard, but the skin was soft, like it had peach fuzz or something. It doesn't, but that was how it felt. I kissed it, and then opened my mouth to take him in a little more. So he couldn't go flicking up out of my … reach.
"Take it, take me a little deeper, Maddie." It wasn't the voice I knew, that had commanded me when he'd spanked me, and that meant I couldn't think of disobeying him. This voice was lighter. There was a constriction in his throat. He seemed younger. He needed me, and I could hear it. 
So I kissed that tip again, smiling. I liked it. I liked him. And I was in control here. Then I opened, and felt him push his cock in. He was trying to control himself, but he couldn't help that forward movement, that first thrust, I was sure. I took his head, his glans, all the way in, and ringed my lips on him just past his foreskin.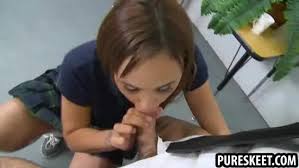 I knew two things about how to do this. I licked the underside of his glans, and he moaned. Then I sucked, hard, my cheeks hollow between my teeth and he was silent. But his whole body shook.
He said, "Good, that's good. You're a good girl."
Then I felt his hand on the back of my head, and he pushed me forward, slowly, until I had most of him in. I was a little scared. What if he rammed me forward, and I couldn't take him all of his cock into me? Would I choke? Would he punish me? My bottom still burned, from the spanking he'd just given me. 
He said, "I'm going to move for a while. It's called fucking your mouth. Now put your hand on the base of my cock. Good, that's it. This way I won't go too deep for you. It's your first time, isn't Maddie?"
I spoke to his cock. I didn't want to take my mouth off it. "Yes, sir." My voice sounded muffled. I was talking with my mouth full. If it hadn't been so strange and so hot, I'd have thought that was funny.
"Good. Good girl. I'm glad I'm your first. Now, the next part is simple. I move in your mouth, and you suck. You suck hard. If you take your mouth off my cock, or I don't think you're trying, Maddie, I'll cane you. Hard, and I won't stop when you're crying. I won't bother counting, but you won't get less than 50, across your bottom and legs. Understood?"
His voice had deepened again. Maybe I liked that voice better. "Yes sir!"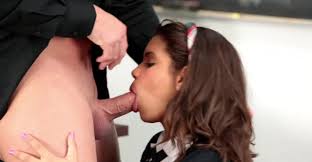 Then his hand pushed my mouth onto him, and he thrust forward to meet me, and I sucked him, hard as I could, as he'd told me. And he fucked my mouth, and the only sound now was my heartbeat, and my breathing though my nose, and his occasional gasps of pleasure.
Sometimes he pushed a little deeper, and although I had my hand on his cock, like he'd told me, I mostly let him. I liked that I could feel my bottom, so hotly punished, so swollen and burning, while I served him. 
We'd sped up. His cock was moving in my mouth fast now, and it wanted to get as deep as it could. It was like his body was controlled by some other force, not him. And I tasted something salty, and then he put his other hand to my cheek, trying to be gentle, and he said, "swallow every drop, girl, or you'll get that caning."
I was going to nod, but suddenly there was a spurt of salty, slippery stuff, hitting the back of my throat, and in less that a second my mouth was full of it. I swallowed, and swallowed, because I knew that if I gave him an excuse to cane me, in this moment he'd be merciless. Eventually I'd swallowed it all, I think, and his cock had slowed, still thrusting in my mouth but without the same urgency.  I followed my instinct and kept sucking, cleaning the shaft of his cock and swallowing my of his fluid, his sperm, as it came.
I wondered if I should stop, but he didn't tell me to. So I didn't.
The next episode is here.