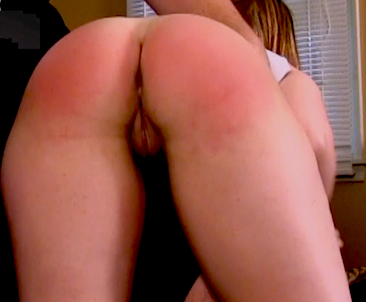 The previous episode is here.
I lay over the headmaster's lap [said Maddie]. My bottom was still sore, really sore, from my spanking, and yet I was blissed out.
I'd come twice while he stroked my cunt. He'd had his fingers inside me!
I kept telling myself that, over and over, because it was such a strange thing, and so wonderful.
It meant he'd wanted me as much as I wanted him. He'd looked after my pleasure. No one had ever done that for me before. 
I was his. If he'd told me he wanted to cane me I'd have taken off the rest of my clothes and bent over for him. If he wanted to fuck me I'd have aid on my back or own my front, on the carpet or on the desk, whatever he wanted. If he wanted me to suck his cock I'd have knelt for him, and let him into my mouth. I'd never sucked a cock before, but I'd heard other girls talk about it. I knew he'd teach me the rest and make sure I pleased him. That thought made my rock myself across his lap. I moaned. 
He put his hand back on the bare skin of my bottom. His touch was so cool against my burning skin. "Maddie? Are you all right?"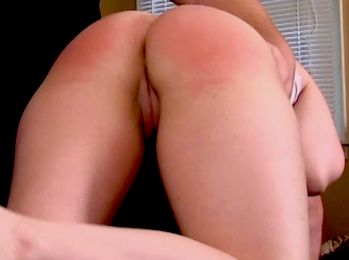 "Thank you, sir. Thank you for my spanking. I needed -" I thought about how to say what I'd needed, and I chickened out a bit. "I needed you to make me behave." 
"Yes, you did." But he sounded amused. He knew I'd started to say something much more personal. "Well, we should make sure you get what you need, shouldn't we?"
His hand started to rub little circles on my left cheek. I sighed. It was so lovely. 
"I hope you do, sir. And …" I lost my nerve. 
"And what, Maddie?" His hand pressed down on my bottom: a warning. He could repeat my spanking easily enough. 
"And is there, is there anything I can do for you, sir?" My heart beat hard, once I'd said it. I was offering myself to him. What if he didn't want me?
His hand slipped down again, and he caressed my cunt. Just along the lips, over and over, getting his fingers wet with me. I'd spread my legs for him as far as I could, and now I crawled forward a couple of inches and lifted my bottom so he could watch my cunt as he stroked me. I could feel his cock pressing against my hip. It seemed to be trembling. He was throbbing, with desire for me. 
I said, "We've already broken all the rules, sir. And I want to." It was the bravest thing I've ever said. 
"Yes," he said, after a pause. A long pause while my world hung in the balance. "You can close the curtains for me." 
I felt a second's disappointment. He wanted me to re-organize his office? Then I realised what he meant, and I could have sung. I got up, making no attempt to cover myself, and closed the curtains. There were people out there, playing basketball, but no-one was looking at the offices. 
Then I turned to him, naked from the waist down and knowing that he liked everything he saw. I said, "Sir?" 
Note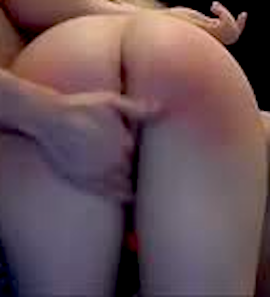 This is one seriously unethical headmaster. Both headmasters in this story belong in the bar-y place, the stripey hole, the jewel-case of infamy.
I found the scenario incredibly hard to write at first. It originally started as an agreement to write the male perspective on a story that appeared in the Sex is my New Hobby blog. 
But Zoe stopped writing her story, and this has gone off in other directions since then. 
But I don't feel quite as uncomfortable with the wicked teacher/naughty schoolgirl scenario any more.
Like Christian Grey, the man in this story has no idea of what ethical consent might be, or why you shouldn't do anything without it. (He has her consent, but there's no way it's ethical.) So the events in this story should not happen in the real world, just like Christian Grey shouldn't strap his girlfriend without informed consent,
I won't talk about the obvious fact that the 50 Shades books are badly written. I've mocked them before. Now I'm only saying that Grey is a a lust object for some women, and he's not a role model. for anyone  
But during some discussions about Mr Grey and his Amazing Shades, I came to agree with the women who skipped most of those books but read the spankings and fuckings.
If he's a character in an erotic story, a fictional character isn't obliged to be ethical. He's just obliged to be sexy. Taboo or no taboo. 
There is a sense in which the headmaster, rather than Maddie, hot girl though she may be, is the object of desire in this part of the story. 
POV
By the way, this is a story within a story. The main narrator runs the school where Maddie works as a secretary. Maddie is telling him the story of how she came to lose her virginity, back at the school she attended. And he is reporting to the readers the story that she told him.
So although it appears to be female POV, it's filtered somewhat by the version of what she said that her employer is giving. 
(And all of them are characters made up by me. Though I've known people similar to Maddie, and bits of them keep getting incorporated into her. I have a sense of who Maddie is, and she's started to feel somewhat real, to me. So I'm trying to be true to her, as best I can.)
The next episode is here.