The previous episode is here.
Out of Maddie's story: Back in the storeroom with me
Back in the storeroom beside my office, where Maddie was telling me this story, I looked over at her. We were lying side by side on a mattress that would eventually find its way to the school sickroom. Maddie wasn't so tense in my arms now, and her eyes, staring at the ceiling, seemed more relaxed. We'd passed the hard part of her story. 
I kissed her cheek, near her nose, since that was where I could reach. She turned to face me, and we cuddled, full length, Maddie pushing a leg between mine so we were intertwined. We were in that pleasant emotional valley between affection and sex, and not inclined to make any definite swing in one direction or the other. 
I was still soft-cocked. It hadn't been long since we'd fucked, and since then she'd told me about getting raped in the boy's toilets at her school. That was about the most antierotic thing I'd ever heard. So there'd be no more fucking, at least not  involving penises, until I'd got that out of my head. I think Maddie was happier with comfort than with lust just at that moment too.
But affection: I guessed that was what she wanted most, and I could do that. 
I held her and said, "You're in his bath, the lucky bastard. So then what happened?" 
Back in Maddie's story, and in her headmaster's bath
I put my toes in the bath. It was just short of being too hot, so it was just right. I could hear him just outside the door, picking up my clothes. I imagined him coming in, to see me, and I hurried into the bath. 
It wasn't that I didn't want him to see me. It was that I'd seen movies where the woman lets the man into her bathroom, and she's all covered up in soap bubbles, and all you got was the odd glimpse of golden, pink skin, and no nipples and no thighs. And I wanted him to see me like that. Looking all grand and sexy.
I didn't want sex with him, not then. My cunt hurt, and I still felt terrible. Something that was going to be so lovely, between us, had got fucked up, and and it was my fault. I know. I'm talking about how I felt then. 
I was a little bit angry with men, too. I wasn't angry with him, my headmaster, sir, but there was still some free-floating anger. How could this have happened? It just wasn't fair. And it happens to girls like me, and it never happens to men like him. 
Still, though I didn't feel like getting fucked that night, sex was still something between us and I needed to know it had survived.
I still wanted him to cane me, and make me do whatever he wanted and punish me if I didn't do it right. And I wanted him to fuck me, in all the ways a woman can be fucked, and for him to teach me everything he knew. And then I could serve him.
And I knew that was what he wanted too. So I liked that. I didn't want it to happen that night. But I needed to know he still wanted me, and that made me feel a little flirtatious, even a little sexy. Do you see that?
I heard a washing machine going. I thought about him taking the clothes out of the drier, in an hour or so, all crumpled and needing ironing. And I thought of watching him iron my clothes, and something about that made me giggle. And then I thought about ironing my clothes in front of him. I'd have to drop the robe so he could see me lean forward. And wiggle. That, my darling, was the Kahlua talking. Or at least doing my thinking for me. 
So I poured some more water, and added more soap bubbles everywhere, so I was almost modest. Though I left a nipple poking out. I thought it looked accidental. And I called out, "Sir? Sir?"
"Maddie?" He was back in the living room. And he wasn't coming in to see me. 
So I said, "Sir, I'm feeling shaky still. Can I have … another adult drink, please?"
There was a pause. Eventually he decided he had to believe me. I was pretty sure those were the rules. So he said, "All right, Maddie. But just one. That's it." 
So I ran more bubbly stuff and churned it up, till I had dabs of bubble in my hair and like icecream cones on my knees, but still with one nipple peeking out. I thought if he liked me at all, he'd find that irresistible.
He came in, with another glass for me, and a glass of something clear in his other hand. And he stopped and looked down at me. All ready for him, like a sophisticated New York socialite in a movie. He saw me, a naked girl all bubbled up, looking about ten years old, I suppose, and thinking I looked thirty. He smiled. 
"Maddie. You said you were feeling shaky. I want you to look in my eyes." 
And I did. His were kind, at that moment, but they could be hard, too. Blue eyes, he had. And the lines around them were kind. He was going to cane me and fuck me, but he cared and worried about people. And we looked at each other, on and on, for ages. 
"Were you just feeling shaky, girl, or did you just want me to come in here?"
He was still looking at me, and I was still gazing into his eyes. I couldn't lie, and I didn't want to. "I wanted you to come in, sir. I felt lonely. And … now I really do feel shaky."
He smiled, and gave me the glass. I leaned forward to take it, and there were my breasts, a little soapy, but basically bare. I leaned back quickly, retreating behind the bath foam. 
"Good girls don't tell lies." But he didn't seem at all angry with me. "Do you think you've just deserved a spanking, Maddie?" 
I didn't have to think about that. "Yes, sir."
"You're right, provoking little girl. All right, that robe I gave you to wear."
"Yes, sir?"
"You can carry it out of the bath, and I'll let you wear it later. But when you've finished here, you're just going to have a towel round your body, and you'll take it off when I tell you, and put yourself over my knee."
"Yes, sir."  And I smiled at him. The idea that he wanted to be in charge of me made me feel so relieved. 
"Good girl. Up to a point. Now drink your drink." 
He put the lid down and sat on the toilet, to watch me. "And clear those ridiculous soap bubbles away. Who do you think you are, Doris Day?" 
"Who?"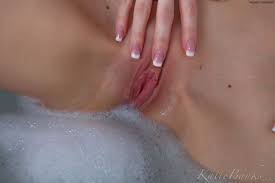 "Never mind. You've got a lot to learn. Now wash yourself."
So I cleared away the bubbles and obeyed. He watched, but even when I spread my thighs and washed my cunt, and scrubbed at it with the flannel, he watched my eyes. 
The next episode is here.