So I stayed down, bent over his desk, not even wearing a wristwatch, waiting for the light touch of the cane across my bottom. There had been two taps of the cane against my bottom, to help him to aim, and that told me where Sir was going to put the next stroke. It told me where the next fiery line of pain would land.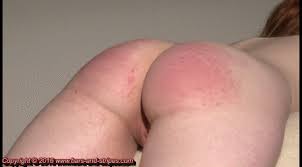 The tap came, twice, against my lower bottom, just above the crease of my thighs. Where the skin was softest and most sensitive, and it would hurt me most when I sat down afterwards. Then the cane swept down, and the loud crack of the bamboo on my flesh, and that line of pure pain reached my brain at the same time.
I yowled, and my hands clenched and unclenched while the pain built up. I forced my body down, the desk so cold and hard under my belly and breasts.
Eventually, I could arch my bottom out and up, the way he'd told me, to present myself for his next stroke.
Lucy said, "Two, sir. And thank you for showing me what getting the cane looks like."
But I'm going to have to cut here, though. This has been published and my publishers don't want free competition from me. You can read it here.