This is episode 10 of Jennifer's Pleats and Pleas 4: Holding Hands Across the Desk.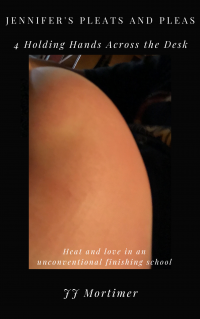 In this episode, Jennifer returns to Mr Beecham for her slippering. He allows Maddie to stay, and even to deliver a light spanking when Jennifer is cheeky. Both women, and the headmaster, enjoy that immensely.
"This is a-grade erotica in a traditional style and setting, but told by an author with an eye for the telling erotic detail. And character details. These are three-dimensional people. I loved it!" – V Sevigne, reviewer.
But I've had to cut the text, though. This is to be published and my publishers don't want free competition from my site. I'll shortly insert a link to where you can buy this fine and erotic book at your favourite e-book seller.