I stepped forward, avoiding Lucy's gaze, and bent over Sir's desk. Lucy's skirt lay folded on the desk beside me, where she'd taken it off to receive her spanking. I put my hands forward, and lowered the upper half of my body slowly down to the desktop. 
The desk was cold. I could feel my own goosebumps, then the cold, hard surface when my nipples touched the wood and I let myself all the way down.
I knew I was helpless now. I felt absolutely powerless. It was going to happen. 
I felt his hand pressing down on the small of my back. "Bottom up, Maddie. You know what presentation means." So, under the force of his hand I arched my back, so that all of my body pressed tight on the desk, while my bottom jutted up. For him, and Lucy, to watch. 
But I'm going to have to cut here, though. This has been published and my publishers don't want free competition from me. You can read it here.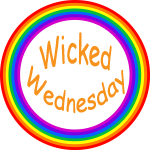 The next episode is here.