The rest of that day's class was uneventful. Yua sometimes opened her legs to flash her panties and inner thighs at him, but he ignored that. If it got worse he'd deal with it.
School life travelled smoothly for a while. In the next couple of weeks he found sometimes had to repeat the lesson, with some of the rowdier boys. At least they presented him with no temptations when they presented their backsides for the cane.
But a few weeks after the first time he'd caned her, Yua brought no homework and squirmed voluptuously, standing beside his desk. Seamus said, "Well? Homework?"
"I'm sorry, sensei. I did it, so well. But on my way to school today there was a dog. It chased me and I dropped my homework. I went back later, but …"
Seamus looked up at her, in disbelief. "The dog ate your homework?"
"Hai, sensei."
In a way he was impressed. It was a traditional Western excuse, but not a Japanese one. She must have done at least some reading in English. But he said, "A dog did not eat your homework, Yua. I warned you about stupid excuses. Fetch a chair, and bend over it. Bottom facing the class, so they can see you being punished."
So Yua walked to her desk, still squirming with every step, knowing he couldn't help but watch her, picked up the chair and returned. She bent tightly over the chair. As an afterthought, she lifted her skirt above her waist, so the cane would impact across neat, modest white panties.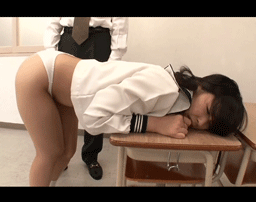 Seamus gave her one hard smack across that poised target with his hand. She wiggled, knowing she was a temptation. Then he walked to the hook on the wall from which the cane hung, in warning to all his students. He lifted it, walked back and stood a little to her side. He lined the cane across Yua's bottom, then lifted it. He turned to face the class.
They gazed, unblinking, the girls mostly at him and the boys mostly at Yua's plumply perfect bottom. He said, "Take out your book and turn to page 148. If I see anyone watching, they'll come up and get the same."
There was a sudden flurry, books being removed from satchels and placed open on the desk. All eyes were on page 148.
He said, "If you disrupt lessons, if you don't do your work, if you are insolent like this silly girl, this is what you get." And then he swung the cane down, hard across tight panties.The sound was loud enough to make several of them wince, and even Yua gave a little grunt.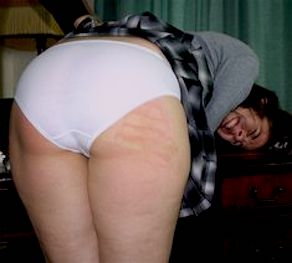 She was no longer making a performance of being caned. She knew that he knew she'd been acting. Still, she squealed when she received the fourth and sixth strokes, so he knew he was reaching her.
She'd expected to take just six strokes in front of the other students, before he gave her more in the storeroom after class.
She made a sound of genuine grief when he gave her the seventh stroke and she realised he wasn't stopping at six. After she'd taken ten strokes, with bright red cane-lines showing at the edge of the panties, he said, "That'll do, Yua. For now. Get up."
Yua looked at him, still bent over. Imploring. She put her skirt back into place, disappointing some of the boys and, Seamus had to admit, him too. But she did not move.