Jennifer raised her head and looked at Maddie. I'd just told her that Maddie envied her, for the paddling she was getting. And, we all knew, though none of us would say it, Maddie envied her because she was the focus of desire in that room. I wanted Jennifer, powerfully. Maddie wanted Jennifer too, and to be her. 
At last, finding my words confirmed in Maddie's age, Jennifer dropped her head to the table again. She tensed her body, then relaxed, getting herself back under control.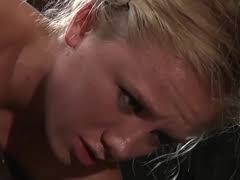 But I did not want Jennifer in control of herself, even partly. I resolved that I would hear her cry out by the third stroke. I landed the second smack of the slipper hard, and on the same spot as the first. Her body jerked under the impact, and her feet left the floor, though she kept her legs spread.
Her head raised, baring her throat to Maddie, and the hiss came back, louder, and ended in a soft moan of pain.
She was fighting hard, and she was brave. Braver than she'd been under the slipper yesterday. But I was determined she'd lose that struggle, and spectacularly.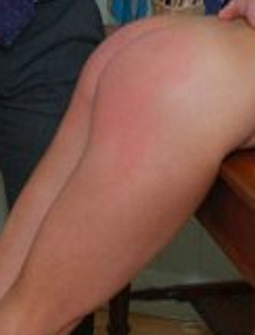 The third hard stroke on that same soft area of skin was her undoing. Her legs rose till they were almost level with the table, though she still kept them spread, and her breath expelled in a harsh, loud scream.
With the floodgates open, I stepped back a little and smacked the slipper down on the crown of her buttocks. It must have hurt less than the third stroke, but her legs kicked in the air and she screamed again, her pitch rising, perhaps a semi-tone.
Her brief resistance was gone: she was now under the slipper's command and direction.
I landed the fifth and sixth strokes on the same spot, about thirty seconds apart, and her legs kicked and cycled in the air, ungainly as a frog's, and the wail with which she greeted the fifth stroke had not ceased by the time I landed the sixth.
Her cries continued after I'd stopped skippering her, a very sorry girl. II touched her slipper, very lightly, against her bottom, as a warning. "Quiet, Jennifer!" Jennifer continued wailing. "Or I'll give you another six extra strokes!"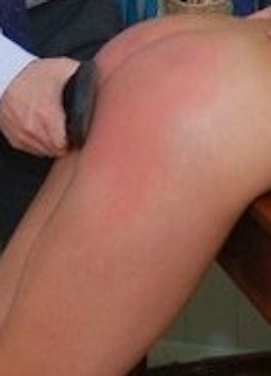 Miraculously, she suddenly found self-control. There was just one last sob, and then silence, except for Jennifer's hard breathing. Maddie caught my eye again, and smiled. "You're learning that discipline really works, Jennifer. I bet Master is pleased with you."
Jennifer shook her head. She was focussed on the raging heat in her bright red bottom, not on speaking. But Maddie reached for Jennifer's jaw and lifted her face, so the girl and the woman stared at each other, eye to eye.
Maddie smiled. "You always find extra reserves when you're being disciplined, Jennifer. I know that well enough by now. You'll endure anything, and you'll do anything if you think it will please him. Discipline works for you too, doesn't it?"