Sometimes Emily, who'd been caned hard, two nights in a row, moved against me in a way that usually meant she wanted sex. Sometimes my cock was hard, pressed against her belly. But long after midnight she turned on her side and slept with her back to me. I curled up behind her, careful not to touch her bottom, and slept too. I'd forgiven her ages ago. I knew she'd forgiven me.
I'd promised her a third caning, and I delivered it. But this time I gave her less pain and more ceremony.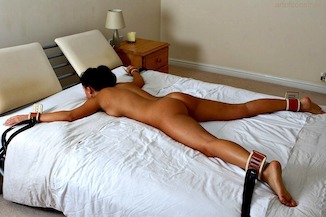 I tied her to the bed, but when her caning began I made sure the strokes were a little lighter than they had been for her first two punishments. I'd lost the feeling of righteousness that had powered her first two canings.
Afterwards, Emily knew that I'd gone easy on her. She was grateful in a way, but also disappointed.
So I stroked her until she wept and squeaked, expecting to be stroked to orgasm, and then stopped and warned her not to come. I left her on the edge, and still tied fast across the bed. She could assure herself that this was punishment.
I sat with a book, where I could watch her and she couldn't watch me. If you tie your partner, you stay and watch, for their safety. Anyway, watching Emily was no hardship. It was starting to feel real. Emily really had given herself to me, as a possession, an owned woman, who was accountable to me.
I thought, while trying to read, about our future. We couldn't just spend all our time with Emily being tied to our bed. Or me spanking and caning her. I'd have to find other ways of letting her feel herself owned and submissive, while giving us room and time to get on with our lives and careers.  I had no idea how to achieve this. Was there a submissive way of watching a movie? Or doing the dishes? Was there a dominant way? I didn't know.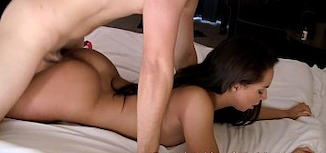 I shut the book and joined Emily on the bed, and used a buzzy thing to help her to pick up the threads of that dropped, stopped, orgasm. Then I undid her bonds and fucked her again. Emily came again, clamorously, and she was giggly talkative afterwards.
But I fell asleep, most of my weight on her back .Emily woke me an hour or so later, in ghostly night, asking me to move so she could get to the toilet. She came straight back. After all, she no longer smoked.
{The end]