I'd just told Claire that she would be naked whenever she was in my house. Claire nodded, wide-eyed. I smacked her cane-welted bottom hard enough to make her yelp, though she didn't let the cane fall from her mouth. "Sio, you've got four more  cane strokes coming now, Claire. Making six, so far. Don't you think you should acknowledge orders?"
"Oh god, I'm sorry. Yes, sir, of course I do."
I gave her the robe to carry, and said, "Follow me." I took her to the door that led into the living room. She looked around, still wide-eyed. It was a comfortable room, the furnishings and paintings old-fashioned, and not, apparently, having any sexual or disciplinary purpose. Two leather armchairs, with rolled arms, faced the fireplace. Mine was an innocent living room, and yet she knew she was not in here for any innocent purposes.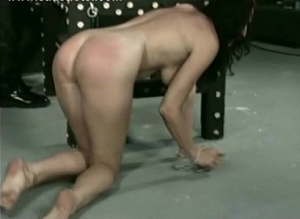 I smacked her ass again and turned her to face the corridor.
"Drop to your hands and knees, Claire. Crawl. The bedroom's second on the right. Bend over the end of the bed, knees on the floor, well apart. Put the cane between your buttocks and hold it tight, and wait for me. Go!"
Claire mumbled, "Yes, Master", round her mouthful of cane, and dropped to her knees, breasts bobbing appealingly. Maddie would have liked that moment. She put her hands on the carpet and set off, her ass beautifully round, the jewel of the butt-plug winking at me.
Her brightly savage cane stripes had turned black in spots where two stripes had crossed. The stripes rolled hypnotically as she crawled her way to the bedroom.She stopped, on hands and knees, before disappearing into my bedroom. "I'm sorry, sir. I've asked so much of you. I really am sorry." 
I would have liked to tell her she was a good girl, but I thought she'd rather earn the next praise I gave her. Still, I  said, "You've also given yourself to me. I treasure that, girl. And I'll let you know when you displease me. But I've accepted you, sorry and all, and I'm going to keep you. So get on with you." 
I watched her crawl away, plug in her buttocks still winking as she moved. I poured myself a glass of water in the kitchen, taking my time, thinking of Claire placing herself over my bed, and the cane, placed invitingly for me to use. Well, I was thinking of it, and her body, and I knew she'd be very aware of it and the possibilities it opened, too.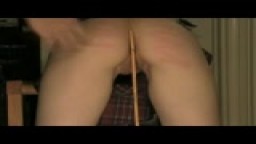 When I judged she'd had enough time to think about her circumstances, I walked to the bedroom. Claire was bent obediently over my bed, hands outstretched, cane held tight between her cheeks. She was aware of my arrival but did not move or speak.
I undressed, and took a condom from my dresser, without speaking. Then I took the cane. She sighed, expecting that I was about to use it. But I said, "You need to be fucked, now, don't you, Claire?"