Roland put his hand on Teresa's back. His cock pressed against her right thigh. He was very hard. Most of his mind had turned off, too, she expected.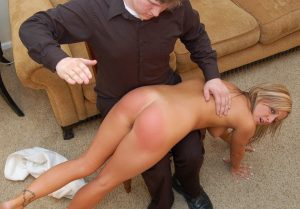 He said, "Of course this is going to hurt. If it didn't it wouldn't be real, and it wouldn't be sexy. So I mean to hurt you, Teresa O'Sullivan. Hurt you personally and particularly and deliberately. If I went lighter it'd just be mildly painful and feel kind of annoying. But if I go harder, your body responds to it. You won't feel it as pain at all. Ok?"
He let her see his hand, suspended until she replied. She frowned. "That… might be right." 
He held eye contact with her while his hand landed again across her arse, which was – if his phone camera hadn't lied – already a blazing red. She could feel its heat. He leant down and kissed her ear.
He whispered, "So don't you bother complaining that it hurts. Unless you want to turn me on."
"Mmm. You're such a cruel boy."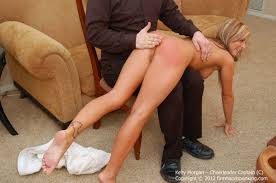 He put his hand on her back to hold her down, and smacked her hard on the tops of her thighs, adding eleven very fast, very hard smacks while she wailed and squirmed.
"I don't need to hear from you again, Teresa, until you thank me for your spanking when I'm finished."
Teresa nodded, bowing her head. The explanation of why a hard spanking hurts less than a mild one was, she knew, Roland's style. He liked a well informed submissive. But now he was being sexy billionaire Julian again, a man who never apologised and never explained. He pressed one hand just below the nape of her neck, holding her down across his desk while he resumed her spanking.
For a long time the room echoed with the sharp sound of Roland's hard hand on Teresa's soft, rounded, flesh and her laboured breathing and her occasional mews, which might have been little cries of pain, or pleasure, or both.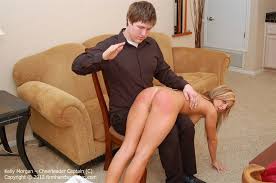 At about what she judged – she wasn't counting – was the ninetieth or possibly hundredth spank he stopped.Teresae said nothing. She'd found herself, at last, in a strange, floating world of her own, an erotic world in which there was only a continuous heat and knowledge of her own acceptance of that.
It seemed an far away and unimportant fact, that he'd stopped spanking her.
She was aware of events – he pulled out the top drawer of the desk and took out a bottle of lubricant, pouring the gel liberally onto his forefinger and index finger – but she hardly thought of them as having importance to her. Until he pressed against her anal ring, and after a pause and a little more pressure she opened and admitted his fingers. She was still floating after her spanking, and very relaxed.
It felt pleasant and oddly comforting, though in a sense it was far away, barely connected to her. There was nothing Roland could do, just then, that she wouldn't accept. She had abandoned herself to trust in him. He let the two fingers enter to the second knuckle, spreading the lube inside until she was slick and his fingers moved easily. Then he removed them, coated them again, and re-entered her.
This time Teresa's eyes opened, and she made a languorous sound. "You're going to fuck my arse. And give me your come. I, uh, endorse this plan. Oh! And thank-you-for-my-spanking, sir…"