So Monica had told me three stories: 
1 The first man to spank her had let her down, bursting into tears and demanding that she spanked him instead;
2 She did have a submissive relationship with a woman who used to ride her like a pony, but never took the crop to her; 
3 Actually she had a dominant relationship with that woman, who she used to spank with a hairbrush if her cunnilingual tongue action wasn't enthusiastic enough.
I said, "The first story is true. Because of mathematics. Though it's plausible anyway." 
"What do you mean, 'because of mathematics'?"
""Only one of your two stories about a woman lover can be true, because they contradict each other. So if there have to be two true stories, and only one of Stories Two and Three can be true, then Story One has to be true. Regardless"
"Ah yes. Your stories didn't contradict each other. I'll have to remember that next time."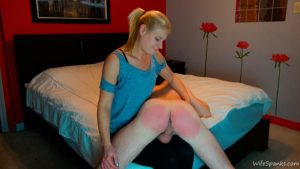 "And you're not the first woman I've heard complaining about a guy claiming to be a dom and then wimping out when he's got permission. And you gave him his spanking when he begged for it, even though it didn't turn you on at all. I believe that because you're nice, and that was nice of you."
"Actually it was really hard." 
"I bet he was." 
Monica bit me. "Idiot. I meant it was hard for me to spank him, but you knew that. I really had to force myself to do it. It felt so unnatural. Only as a thing for me to do, I mean. Other girls can spank guys to their heart's content. And their cunt's."
"They sure can. It was brave of you, too. Going so far out of your own comfort zone. It's a hard thing to do, and brave when it pushes you into a complicated role that you really don't know and don't want. Don't think I didn't notice that, too."
"The second story is true too. And it's really hot. I can't ride on your back. But … I could take you to a park, wearing only blinkers and a pony-tail butt plug."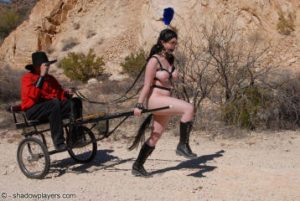 "Only, huh? In a park?"
"And hitch you up to a cart so you can pull me along. I'll signal left or right turns with a whip. On your bum, which I'll be watching very closely."
She checked my cock for signs of returning life. They were there. "That's really … perverted," she said.
She rubbed my cock again, gently and slowly, and it started to fill and rise. I could tell that "perverted" did not mean "out of the question". 
It'd never been a major fantasy of mine. And I wouldn't do it in a park: a Master isn't supposed to get his girl arrested.. But I had a friend who owned some land out past Lithgow. So maybe … 
I stroked her cunt lightly and she said, "Ump", and turned on her side facing me, raising one thigh to give me better access.
I delved in wet girl, and said, "And the third story is a lie, and I fling the lie in your face."
She had my cock in a circle made by her thumb and forefinger, and stroked it lightly. I was hard now. She said, "And why?"
"Because slavegirls who lie to their Masters should have their lies flung in their faces." 
"I suppose so. But why is that story a lie?"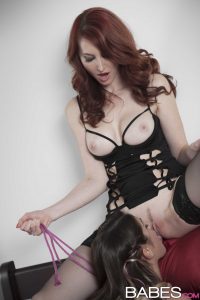 "You can barely bring yourself to spank a boy who begs you to. So I don't see you domming anybody, male or female. The third story is the lie." 
She cast her eyes down. It wasn't especially good acting. "You win, Master."
"Well, you won your round. So it's a draw. We're getting a feel for each other." 
"But I still have to be punished for lying to you." I kissed her, and put a third finger in her cunt. She closed her eyes and kissed. "I have a suggestion for how you punish me. Something I'll really hate."
She was grinning, her eyes sparkling. That "something I'll really hate" was another lie. But I was curious to know what it was.